Faculty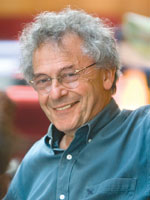 Isaac Kramnick
Isaac Kramnick is the Richard J. Schwartz Professor of Government at Cornell, where he has taught since 1972. He teaches and writes principally in the area of English and American political thought and history. He has written or edited some twenty books, among which his
Bolingbroke and His Circle: The Politics of Nostalgia in the Age of Walpole
won the Conference of British Studies Prize for best book on British politics.
Isaac has received numerous awards, fellowships, and honors. He is a fellow of Britain's Royal Historical Society and served in 1989 as president of the American Society for Eighteenth Century Studies. In 1998 he was elected a fellow of the American Academy of Arts and Sciences. At Cornell he has received the Clark Award for distinguished teaching, the Steven Weiss Prize for teaching, and in 1996 he was chosen through student ballots to be the Cornell Sun's "favorite professor of the year."
Olin Lecture: Cornell Professors and Students, 1940-Present
American universities remain the envy of the world, and Cornell University is a jewel in the crown of American higher education. In researching their forthcoming book, Cornell: A History, 1940-2015, Glenn Altschuler and Isaac Kramnick were struck by the changes and continuities in what faculty and students have been like, how they have spent their time, and the ways in which the institution has evolved, culturally and structurally, over the last 75 years.
Altschuler and Kramnick reflect on these changes and continuities and their impact on Cornell in the 2014 Olin Lecture, June 6 in Bailey Hall.