Faculty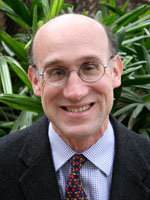 Donald Rakow
Donald A. Rakow is the Elizabeth Newman Wilds Director of Cornell Plantations and an associate professor of landscape horticulture in the Department of Horticulture in the New York State College of Agriculture and Life Sciences. A member of the faculty since 1986, Don has been actively involved in teaching and advising. He was the associate director of Plantations from 1993 to 1995 and was responsible for the management of its programs and operations.
Don's research focuses on the history of public gardens and the social, economic, political, and religious motivations for gardening. He has led CAU study tours to several countries in Western Europe (most recently The Galleries and Gardens of Holland in spring 2010) and is the co-author of the first-ever textbook on the management of public gardens, to be published by John Wiley and Sons in January 2011.
Don received his B.A. from the State University of New York at Albany in 1973, his master's in professional studies in ornamental horticulture from Cornell in 1977, and his Ph.D. from Cornell in urban horticulture in 1988. Don is very active with the American Public Gardens Association, on whose board he has served. In 2009, he received the Award of Merit from the Association in recognition of his many years of service.
Alumni Q&A with Don Rakow
In this CornellCast audio recording, Don talks to alumni about the Plantations' planting choices, steps toward sustainability, the gardens' hidden gems, and what sets the Plantations apart from other university gardens.