Body, Mind, and Health: Historical Perspectives for Future Professionals
Academic director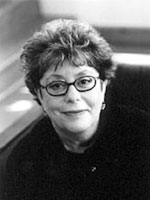 Joan Jacobs Brumberg is a Stephen H. Weiss Presidential Fellow and professor emerita in history, human development, and gender studies at Cornell University, where she has been teaching since 1979. The Weiss professorship honors her excellence in undergraduate teaching.
In 1988, Professor Brumberg's book Fasting Girls, a history of anorexia nervosa, won the John Hope Franklin Prize, the Berkshire Book Prize, the Eileen Basker Prize, and the Watson Davis Prize. In 1998, The Body Project: An Intimate History of American Girls was selected by the American Library Association for a Choice Award and also for special notice by Voice of Youth Advocacy. Although best known for her work on the history of girls, Professor Brumberg's most recent book was Kansas Charley: The Story of a Nineteenth-Century Boy Murderer. In 2005, The Body Project was turned into a play. She has also been associated with the photographic work of Lauren Greenfield, including Girl Culture, and the recent HBO movie/book Thin.
Professor Brumberg graduated from the University of Rochester and received her Ph.D. in American social and intellectual history from the University of Virginia. Her research and writing has been recognized by the Guggenheim Foundation, the National Endowment for the Humanities, the Rockefeller Foundation, the Society of American Historians, and the MacDowell Colony.
"Summer College students are a terrific group, willing to try out new ideas and also learn some lessons from the past. The history of medicine is important because it is a key to understanding contemporary life, as well as our future. Summer College students have demonstrated a sophisticated ability to connect past and present in considering a wide range of topics with real significance."