Tanzania: A Family-Friendly Safari Adventure
December 22, 2015-January 2, 2016
The registration period for this program has passed.
Please contact us if you have any questions.
Join our e-mail list to be alerted when new course information is available (late December).
Photo courtesy of Mahlatini.
Our journey into one of the richest ecological regions on Earth will be an extraordinary adventure for wildlife enthusiasts, birders, and anyone interested in our own earliest ancestors.
David Bonter, ornithologist and biologist at Cornell's Lab of Ornithology and a wonderful teacher in Cornell's Kenya program, will lead us as we set out in Land Rovers to explore Tanzania's heart-stoppingly beautiful bird and animal habitats amid the unspoiled landscapes of a private Eastern Serengeti nature reserve. There we will see giraffes, lions, ostriches, zebras, and warthogs in abundance, hold our breath as predators stalk their prey, and perhaps be lucky enough to witness the great wildebeest migration.
We'll make a private visit to a Maasai village, where we'll learn regional songs, games, and folk tales and witness firsthand the traditions and challenges of Maasai culture and home life.
We'll stop at Olduvai Gorge, one of the most important paleoanthropological sites in the world, before descending into Ngorongoro Caldera to see massive bull elephants, black rhinos, lions, leopards, and ostriches amid the thirty thousand animals that live there.
At our final stop, Tarangire National Park, the buffalo roam, the flamingo throng, and the gazelle, leopard, and antelope play.
We'll appreciate the splendors of Tanzania from remote locations within the Serengeti ecosystem and our lodges at Ngorongoro and Tarangire. Singles, couples, and families with children from eight to seventeen are all welcome!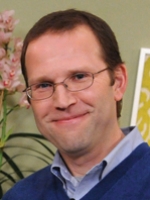 David Bonter
David Bonter is a senior lecturer at Cornell University and an avian ecologist at the Cornell Lab of Ornithology. An engaging and personable teacher, David specializes in teaching field courses in ornithology at Shoals Marine Lab and in ecology at... > more
The Lab of Ornithology, a Cornell and national treasure, works to interpret and conserve the earth's biological diversity through research, education, and citizen science.
Program notes
Double occupancy: $9,955 per person
Single supplement: $750
Child/Teen: $8,400
See What's included?
Fitness scale: Slightly strenuous. May require extended walking over uneven ground as well as the ability to climb stairs and to stand for considerable periods of time.
Itinerary
Tuesday, December 22: Depart U.S.
Wednesday, December 23: Arusha
Arrive and be warmly welcomed in Arusha. Transfer to lodge and enjoy a snack while you enjoy the flowering gardens and views of Lake Duluti.
Lake Duluti Serena Lodge
Thursday, December 24: Arusha | Eastern Serengeti Ecosystem
Northern Tanzania is a relatively small area, so it only takes a brief scenic flight to bring you to a whole new world of cultural interest and natural beauty. Take in breathtaking views of Lake Natron and the Maasai "mountain of god," Ol Doinyo Lengai, which is an active volcano.
Tanzania boasts a bird list of 1,038 species, the third biggest in Africa. Eight of the ten families endemic to mainland Africa are present. Raptors, plovers, parrots, turacos, bee-eaters, barbets, starlings, weavers, pipits, and sunbirds are well represented.
Fly from Arusha to the Eastern Serengeti Ecosystem and meet your guides at the airstrip. Your guides will accompany you throughout your safari, offering cultural insights, wildlife spotting expertise, and in-depth knowledge of wildlife behavior.
The head guide will brief you on your itinerary and review the expectations for your safari, giving you a taste of what's to come. Please ask the guide questions at this time and as they come up during the safari.
Your guide will give you a brief tour and history of the 12,000-acre refuge as you make your way to camp. Along the way, you may see giraffe, eland, dik dik, ostrich, leopard, and even wild dog in this unique wildlife haven—dubbed "Giraffic Park" by one enthusiastic guest.
Relax at your nyumba (exclusive campsite) and enjoy a tasty lunch.
In the afternoon, stretch your legs on a brief scenic walk. As one recent guest put it, the nature refuge is "a magical place of peace and beauty," and there's no better way to experience it than on foot. A local wildlife scout will accompany you and your guide on this walk, pointing out nearby wildlife.
Enjoy a welcome dinner and the full Tanzanian hospitality that comes with it.
Eastern Serengeti Nyumba (B, L, D)
Friday, December 25: Eastern Serengeti Ecosystem
This region is the very definition of "off-the-beaten-path," and of some 800,000 Maasai who live in Tanzania and Kenya, the Maasai in the northern parts of Tanzania have maintained their traditional culture perhaps more than any other group. Here it is possible for guests to take part in unique cultural visits that are not possible in other parts of the world. Travelers return home impressed by the authenticity of their visits and touched by the personal connections they made with local Maasai people.
In the morning, enjoy a light breakfast before heading out on a hike. The terrain will be fairly mild, but make sure that you've got comfortable shoes with good traction. Being out on the plains on foot at this time of day is magical. Zebra and antelope graze over the plains. Perhaps you will spot a silver-backed jackal or even a big cat on the prowl. Search for primates such as baboons and vervet monkeys in the wooded savannah.
Pick up a few useful Swahili expressions and words from your guide. Just trying out a few of them while on safari will make your experience all the more memorable.
Maasai elder Nekaaki Kioki is a feisty grandmother and fantastic storyteller. She knows hundreds of Maasai folktales and tells them in a truly dramatic fashion. Travelers usually gather around the campfire to listen to her tell folktales, which are translated into English.
After dark, you'll have the option to take to the plains and wilds for a night drive in the Eastern Serengeti Ecosystem. Night drives offer thrills and possible sightings of nocturnal creatures, such as spring hares, aardvarks, and porcupines. More than anything, the night drive offers an adventure few travelers in Tanzania have the chance to experience.
Eastern Serengeti Nyumba (B, L, D)
Saturday, December 26: Eastern Serengeti Ecosystem | Serengeti National Park
Head west toward the Serengeti on a rugged road that cuts through a landscape riddled with craggy hills and thickly wooded gullies. Maasai bomas appear seemingly out of nowhere. The rough road to Klein's Gate takes you along the Grumeti River, which serves as one of the Serengeti's two main water sources as it flows from one end of the park to the other before emptying into Lake Victoria. At the gate, you enter the Serengeti along its northeast border; the Maasai Mara Game Reserve and Kenyan border are less than fifteen miles to the north. From there, traverse over the Serengeti's acacia-covered northern corridor.
Visit the Enjipai Women's Group: The Enjipai Women's Group was formed by a small group of Maasai women with a great entrepreneurial spirit. They paired their skills as artisans and homemakers with their desire to help their own families, as well as the community in general. Now numbering over 100 members, the collaborative already has several successful projects underway. A maize-grinding machine provides a much-needed service to women who previously had to walk great distances to have their grains milled. The women of the collaborative also sell their intricately beaded crafts to visitors. While each member makes an individual profit, a portion of all sales goes into a community fund for education and healthcare initiatives.
Boxed lunch en route, followed by afternoon wildlife viewing in the Serengeti. The big cats often spend these hours lying drowsily about the plains and up in the trees while many antelope and other animals continue to graze.
Enjoy your nyumba, whether you get in a workout with a Keep Fit Kit, learn a traditional Tanzanian game from your guide, write in your journal, or simply put up your feet and relax.
Serengeti Nyumba (B, L, D)
Sunday, December 27: Serengeti National Park
What is the story behind the Big Five? It actually has nothing to do with the size of the animals. In the 1800s, colonial trophy hunters named buffalo, rhino, elephant, lion, and leopard as the most difficult animals to hunt on foot. Thus, they were named the Big Five. Years later, tourism companies adopted the term, and the list became the so-called five must-see animals while on safari. While it is possible to spot all the listed animals on your trip, leopard and rhino sometimes prove difficult to track down as they are both solitary, reclusive species. Ultimately, however, wildlife viewing in the Serengeti will be nothing short of amazing.
From November to end of May, birders can expect Eurasian and Intra Africa migrants like: Storks, falcons, harriers, cuckoes, rollers, warblers, swallows, swifts, sand/rock martins, and waders.
Traverse the plains of the Serengeti just after dawn and through the morning hours. Look for herds of wildebeest, zebra, giraffe, impala, eland, topi, and more out on the savanna.
Have lunch at your nyumba, then continue viewing wildlife and exploring the Serengeti's rich landscapes. The Big Five and the Great Migration are the most well-known of the Serengeti's offerings, but there is much more to see. Thousands of equally fascinating dramas of a smaller scale play themselves out on these endless plains.
Traditional games for kids: Kids will learn some traditional Tanzanian games, such as "Rede" (a little like dodgeball) or "Bao" (a board game requiring chess-like strategy), among many others.
Serengeti Nyumba (B, L, D)
Monday, December 28: Serengeti National Park
Serengeti balloon excursion (optional): Those with advance reservations will have the opportunity to balloon across the Serengeti plains. A pre-dawn wake-up call leaves you time to drive to the balloon launch site in order to catch the most dramatic light. Then take to the skies just as the sun rises. Glide over the plains and acacia treetops, taking in spectacular views of the Seronera River Valley and the surrounding plains. After your descent, enjoy a magnificent champagne breakfast right in the midst of the Serengeti wilderness.
For those who opt not to take the balloon excursion, there is much to discover within arm's reach of camp, such as learning how to identify animal footprints and bird calls. How do you tell the difference between the footprint of a dik-dik and a Thomson's gazelle? How about a leopard and a lion? A guide will take you on a walk and show you the tricks to identifying signs of wildlife.
Explore the pristine landscapes of the Serengeti with your guide's wildlife spotting instincts leading the way. Expansive plains, rolling hills, dramatic granite outcrops, and riverine valleys are home to an endless variety of fascinating creatures, from the lowly dung beetle to the impressive elephant.
Rest at your nyumba. After being on the go for several days, it's always nice to take a break and put your feet up at camp.
Serengeti Nyumba (B, L, D)
Tuesday, December 29: Serengeti National Park | Ngorongoro Highlands
As you go from the Serengeti to the Ngorongoro Highlands, you cross grasslands abundant in dramatic granite outcrops called kopjes. The grasslands eventually lead into the wide-open, treeless plains that are so emblematic of the Serengeti. The wooded knolls around Naabi Hill Gate mark your departure from the park, and then it's on to the desert-like bush country.
Along the way you'll stop at one of the world's greatest prehistoric archeological sites, Olduvai Gorge, where archeologists have been making thrilling fossil discoveries for nearly a century. A brief lecture and small museum tour are included.
The day's journey concludes in the highlands, where the rich volcanic soil makes for some of the most fertile land in Tanzania. Relax at the lodge in the afternoon and take in your beautiful surroundings.
Ngorongoro Farm House (B, L, D)
Wednesday, December 30: Ngorongoro Highlands
Visit the floor of Ngorongoro Crater, where you will find an abundance of wildlife. With luck, you might even see rhinoceros and big cats, such as lion and cheetah. The diversity of species includes baboons and elephants in the Lerai Forest and wildebeest and mountain reedbuck over the crater's grassy floor. To maximize your wildlife viewing time on the crater floor, enjoy a picnic lunch near a hippo pool.
Relax at the lodge: Take a little time to unwind and enjoy the amenities at the lodge. A little rest between wildlife viewing drives will leave you refreshed for tomorrow's adventure.
Ngorongoro Farm House (B, L, D)
Thursday, December 31: Ngorongoro Highlands | Tarangire National Park
Depart the Ngorongoro Highlands and head toward Tarangire National Park. As you travel down winding roads, you'll be rewarded with expansive vistas of the surrounding plains. Traveling farther south, you will arrive at Tarangire National Park. Often overlooked, Tarangire astonishes visitors with its massive herds of elephants, distinctive winding riverine landscapes, and swampy floodplains full of wildlife.
You'll have a boxed lunch en route and spend the afternoon viewing wildlife in Tarangire National Park. Explore the banks of the Tarangire River, where large families of elephant often gather, and visit the baobab-studded plains and the miombo woodlands, where you're likely to find baboons and vervet monkeys.
After being on the rugged park roads, you will surely appreciate a refreshing dip in the pool at the lodge.
Tarangire Safari Lodge (B, L, D)
Friday, January 1: Tarangire National Park
Elephants congregate in great numbers around the Tarangire River. The sheer size of these creatures astounds safari-goers, who often get closer to elephants than they could have ever imagined. Both males and females have tusks, and their trunks are natural wonders in themselves—powerful enough to yank bulky branches from trees, yet nimble enough to pick up a single blade of grass from the ground.
Interesting species of birds include ashy starling, violet-tipped courser, orange-bellied parrot, yellow-collared lovebird, red and yellow barbet, mottle-throated spine tail, Abyssinian scimitar bill, greater honey guide, African hawk eagle, black-shouldered kite, black-chested snake eagle, open-billed stork, white-faced tree duck, Goliath heron, great white egret.
Spend the morning in Tarangire, looking for animals and birdlife along Tarangire's river valley and on the surrounding plains. After a delicious lunch and a bit of relaxation at the lodge, you'll continue your exploration of Tarangire, taking in the diverse wildlife and the baobab-studded landscape as guinea fowl scurry alongside your vehicle.
At the farewell dinner in the evening, you'll have an opportunity to reflect on the many sights, adventures, and experiences you've had during these ten days.
Tarangire Safari Lodge (B, L, D)
Saturday, January 2: Arusha
Depart Tarangire for Arusha, where, after a day of leisurely activities, you will catch your departing flight and bid farewell to Tanzania.
You'll have one last morning of wildlife viewing in Tarangire as you make your way out of the park. Stop at the Cultural Heritage Center, a shopping mainstay that attracts many travelers each year with its abundance of wooden carvings, artifacts, apparel, and crafts. The center also has Tanzanite and other gemstones for sale. While the center caters mostly to tourists, it also has wonderful cultural displays and a separate wing that displays some of the finest African art in Tanzania.
During a special farewell lunch in Arusha, you'll have time to say goodbye to your safari companions as you prepare for your departures. Then you can relax in a day room at the Mount Meru Hotel, resting up before transferring as a group to the airport.
Day Room at Mount Meru Hotel (B, L, snack)
Sunday, January 3: Arrival in the U.S.
Accommodations
Lake Duluti Serena Lodge
This beautiful lodge is located six miles outside of Arusha. The picturesque grounds overlook Lake Duluti, and on clear days guests enjoy the magnificent views of Mounts Meru and Kilimanjaro.
The thirty-plus spacious rooms are set within lush tropical gardens and have recently been renovated. Modern amenities and friendly, professional service make this an ideal starting point for any safari.
Eastern Serengeti Nyumba
Situated on a slope of Moruga Hill, your Eastern Serengeti nyumba overlooks a sweeping valley of wooded savannah, wide-open plains, and a remote wilderness like no other in Tanzania. With its signature style, the campsite provides the perfect place from which you can explore the Eastern Serengeti's rolling hills and woodlands by foot or by vehicle and engage in authentic Maasai cultural programs.
After your adventures, the nyumba offers exquisite, environmentally responsible comforts and personalized care. Enjoy a refreshing beverage on your private verandah as you look out to the acacia-covered plains where giraffe, wildebeest, and gazelle sometimes graze. This is Tanzania at its boundless, magical best.
Serengeti Nyumba
The Serengeti nyumba will afford you an ideal way to camp comfortably in the wilderness while immersing yourself in one of Tanzania's most spectacular ecosystems. The spacious walk-in tents feature hand-crafted furnishings, cozy beds, and fine linens as well as en-suite bathroom facilities, including a gravity-fed shower and self-contained flush toilet. Oversized fine-mesh windows allow the breezes to circulate while keeping bugs out. At the front of your tent, enjoy a private verandah with a stunning view of the vast Serengeti plains.
Meals are served nearby in the dining tent and are prepared by skilled chefs using the finest local products. Hot baked breads, freshly prepared salads, homemade soups, delicious entrees, and scrumptious desserts highlight the daily menus. Each morning you'll have hot drinks brought right to your room, and each night you can relax by the fire with a cool beverage while star-gazing or sharing stories with your guide.
Ngorongoro Farm House
Simple yet comfortable, the Ngorongoro Farm House is located within a 500-acre coffee farm near the Ngorongoro Conservation Area and across from the Oldenai Volcano. Quaint bungalows have rustic decor and furnishings made from local materials. Delicious meals include fresh vegetables, dairy, and produce from the lodge's own organic gardens and farms.
The huge main building, covered with an elegant thatched roof, contains the reception, bar, dining area, library, and a lounge with fireplace, where guests can enjoy the views and rest during the cool evenings in the highlands.
Map