Belize: Exploring Rainforests, Pyramids, and Reefs
Shed the chill of winter by joining us in the tiny nation of Belize, a world-renowned ecotourism destination combining lush tropical jungles with idyllic palm-fringed islands that abut beautiful coral reef tracts. In the company of Cornell biologists and CAU veterans Cole Gilbert and Linda Rayor, we'll devote our stay to in-depth exploration of these ecosystems.
In the middle of Maya ruins surrounded by dense rainforests, the 130,000-acre Chan Chich nature reserve is home to a stunning array of wildlife, from margays, tapirs, and coati to more than 350 species of birds. Naturalist guides at our elegant, full-service ecolodge will help us make the most of our stay.
On the coast, we'll swim and snorkel off Ambergris Caye and explore reef habitats rich in exotic tropical fish. We'll travel by boat to rookeries, mangrove swamps, the Smithsonian research station, and marine environments replete with stingrays, manatees, starfish, and orchids.
En route from Chan Chich to the Caribbean, we'll visit Xunantunich, one of the most important Maya centers in Belize, where we'll explore the intricately carved stucco friezes on the ancient temples and gaze down at the surrounding rainforest from the top of El Castillo, the tallest Maya pyramid.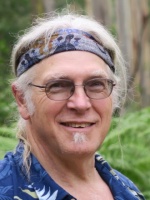 Cole Gilbert
Cole Gilbert is a professor in the Department of Entomology and the Hays and James M. Clark Director of Undergraduate Biology at Cornell. He has been recognized for his teaching with awards from Cornell, the SUNY Chancellor and the Entomology... > more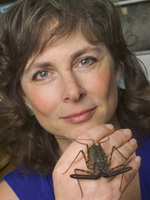 Linda Rayor
Linda Rayor, Department of Entomology at Cornell University, specializes in spider behavior and science outreach. Linda has won numerous teaching awards for her courses on Spider Biology, Insect Behavior, and a course on how to do effective scientific outreach.... > more
Program notes
Double occupancy: $7,995 per person
Single supplement: $1,570
See What's included?
Fitness scale: Moderately strenuous. Assumes the ability to walk for more than a mile over terrain that is sometimes rough, with varying elevations. A good sense of balance and athletic shoes or hiking boots are essential, and walking poles may be desirable.
Itinerary
Saturday, January 16: Belize City/Mountain Pine Ridge
Arrive in Belize City and transfer by land to Mountain Pine Ridge area (2.5-hour drive). Stop for a leisurely lunch at a restaurant along the way. Arrive at the hotel in the afternoon; relax, explore the surroundings, and enjoy welcome cocktails, dinner, and an orientation.
Hidden Valley Inn (L, D)
Sunday, January 17: Barton Creek Cave Adventure and Butterfly Farm
Travel to Barton Creek Cave (30 minutes). Canoe at Barton Creek and see natural formations. After a picnic lunch, visit the butterfly farm. Return to Hidden Valley in the afternoon, see the falls, and enjoy an afternoon at leisure.
Hidden Valley Inn (B, L, D)
Monday, January 18: Xunantunich/Chan Chich
Enjoy a guided visit to the Maya ruins of Xunantunich. After lunch at a local restaurant, transfer to Central Farm airstrip in Cayo District and fly to Chan Chich. Arrive in time for dinner at the hotel and a night walk at Chan Chich.
Chan Chich (B, L, D)
Tuesday, January 19: Chan Chich
Various activities, which may include birdwatching, vehicle tours, walking tours, canoeing, and horseback riding.
Chan Chich (B, L, D)
Wednesday, January 20: Chan Chich
Various activities, including a visit to Laguna Seca and Laguna Verde.
Chan Chich (B, L, D)
Thursday, January 21: San Pedro, Ambergris Caye
In a private charger plane, fly to San Pedro (30 minutes) and transfer by boat to hotel (20 minutes). Enjoy welcome cocktails followed by an afternoon at leisure with optional activities (kayaks, paddleboats, and Hobie Cat). Dinner at Las Terrazas pool area.
Las Terrazas (B, D)
Friday, January 22: Full-day reef snorkel tour
Spend the day marveling at the abundant marine life on the reefs and enjoying a barbecue lunch. Return to the hotel for dinner on your own.
Las Terrazas (B, L)
Saturday, January 23: Ambergris Caye
After a morning of activity in San Pedro, you'll enjoy a free afternoon followed by a three-course farewell dinner.
Las Terrazas (B, D)
Sunday, January 24: Return to U.S.
Transfer to the airport and fly to Belize for flights to U.S.
(B)