Hawaii's Big Island: Destruction and Creation in Paradise
March 8-13, 2016
PROGRAM FULL: Please contact the CAU office to join the waiting list.
The registration period for this program has passed.
Please contact us if you have any questions.
Join our e-mail list to be alerted when new course information is available (late December).
The lush vegetation, abundant birdlife, and breathtaking beauty of Hawaii's Big Island inspire countless superlatives. Equally inspiring are the planetary processes of destruction and creation so vividly revealed in Hawaii's biology, climate, and geology.
Illuminating our exploration of this fascinating cradle of evolutionary biology and geological turmoil is the Lab of Ornithology's Scott Taylor, an expert on birds, superb evolutionary biologist, and CAU favorite.
In addition to his wonderful talks, Scott will lead our many expeditions to observe the island's astounding array of flora and fauna, ninety percent of which is endemic. That percentage, the highest in the world, makes the island a living, breathing testimony to the processes of evolutionary biology.
Scott also will guide us as we view Mauna Loa, the biggest volcano in the world; Kilauea, the most active; and soaring Mauna Kea, the highest mountain when measured from the ocean floor and home to the island's eight major climate zones, from desert to alpine. We'll dine al fresco during our tour of Mauna Kea's Visitors Center. Those who wish to do so may make a trip to the summit for starwatching.
Our home for this memorable week will be a grand Victorian mansion in Hilo's Reed Island, where Hawaii's royalty once resided.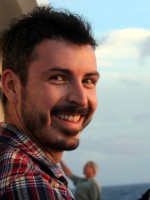 Scott A. Taylor
Scott Taylor, formerly of Cornell's Lab of Ornithology, teaches in the Department of Ecology and Evolutionary Biology at the University of Colorado at Boulder and leads the Taylor Lab on hybridization, speciation, and natural history.
Scott Taylor joined Cornell's Lab of... > more
The Lab of Ornithology, a Cornell and national treasure, works to interpret and conserve the earth's biological diversity through research, education, and citizen science.
Program notes
Double occupancy: $4,998 per person
Single supplement: $990
See What's included?
Fitness scale: Moderately strenuous. Assumes the ability to walk for more than a mile over terrain that is sometimes rough, with varying elevations. A good sense of balance and athletic shoes or hiking boots are essential, and walking poles may be desirable.
Itinerary
Tuesday, March 8: ARRIVE HILO, LILI'UOKALANI GARDENS
Arrive at Hilo Airport on the Big Island of Hawaii. You will be met by one of your guides and transferred to your house on beautiful Reed's Island. You will spend five nights at an exclusive house on Reed's Island, surrounded by tropical rainforests, waterfalls, rivers carved by volcanoes, and gorgeous gardens. The epitome of exclusivity and comfort, Reed's Island will be your home away from home for the duration of the tour.
In the late afternoon, walk through the peaceful Lili'uokalani Gardens, named after Hawaii's last reigning monarch, Queen Lili'uokalani. Located on Hilo's Banyan Drive, this authentic Japanese garden was dedicated in 1917 as a tribute to Hawaii's first Japanese immigrants, who worked in the island's sugar cane fields. This beautifully landscaped park features arching red bridges over fish ponds, rock gardens, pagodas, Japanese stone lanterns, and a teahouse. Views of Hilo Bay and Moku Ola (Coconut Island) enhance this remarkable landscape.
In the evening, relax at Hilo House or enjoy fine dining with your fellow travelers at the elegant Hilo Bay Café, featuring stunning bay views and fine contemporary American, Hawaiian, and Japanese cuisines.
(No meals)
Wednesday, March 9: 'AKAKA FALLS STATE PARK, HONOLI'I BEACH, CARL SMITH BEACH PARK
Enjoy the daily breakfast served at Hilo House on the lanai. After breakfast, tour 'Akaka Falls State Park, 14 miles north along the Hamakua Coast. Visit two gorgeous waterfalls on a pleasant .4-mile uphill hike that takes you through a lush rainforest, filled with wild orchids, bamboo groves, and draping ferns. This easy hike takes less than an hour.
Follow the paved footpath to the 100-foot Kahuna Falls. Continue around the bend, where you'll discover towering 'Akaka Falls, dropping 442 feet into a stream-eroded gorge. Beautiful 'Akaka Falls is perhaps the Big Island's most famous waterfall.
The Oopu alamoo, an endemic Hawaiian species of goby fish, spawns in the stream above the waterfall, then matures in the ocean. To spawn, the Oopu alamoo clings to the wet rocks behind the waterfall and climbs back upstream using a suction disk located on their belly.
Later, visit Honoli'i Beach. Popular among the local surfing crowd, Honoli'i beach is a mix of black sand, coral rubble, rocks, and beach glass. Perhaps beachcomb for glass along the shore.
Return to Hilo for lunch at a local restaurant, then visit Carl Smith Beach Park, with a black sand beach and beautiful views of Hilo Bay and Mauna Kea. Watch locals swim and surf. Take an optional swim and perhaps see a Honu, or Hawaiian green sea turtle. In the evening, savor a home-cooked dinner featuring fresh farm-to-table delicacies prepared at the Hilo House by a local Hawaiian chef.
(B, L, D)
Thursday, March 10: HAKALAU FOREST NATIONAL WILDLIFE REFUGE AND MAUNA KEA
Lying nearly 2,400 miles from the nearest continent, Hawaii is the most isolated landmass on the planet. Formed by volcanoes that emerged from the sea floor, this archipelago was colonized by flora and fauna that crossed the wide-open ocean. With no competitors, predators, or disease, these few early colonizers radiated into more than 3,000 native plants and animal species (many endangered or near extinction) that inhabit almost 150 fragile and unique ecosystems.
With the greatest number of unique habitats of all the Hawaiian Islands, the Big Island is an amazing place of biodiversity and one of the best islands to observe native species. On the windward slope of Mauna Kea, the Hakalau Forest National Wildlife Refuge (NWR) was established in 1985 to protect and manage endangered Hawaiian forest birds and their rainforest habitat. It contains some of the finest remaining stands of native mountain rainforest in Hawaii and supports a diversity of native birds and plants found almost nowhere else in the entire island chain.
Explore the refuge with a local expert, who spent twenty years as the Hakalau Forest NWR biologist. Wander through the lush forest of majestic koa and red-blossomed 'ōhi'a trees to see and hear some of Hawaii's endemic and most treasured avifauna—the brightly colored 'Apapane, the active 'Elepaio (Hawaiian flycatcher), the 'Amakihi, the Hawaii creeper, the noisy I'iwi, and the delicate 'Oma'o (Hawaiian thrush). Perhaps spot the rare and endangered 'Akiapola'au, or the 'Io (Hawaiian hawk), flying above the landscape.
See some of the most endangered plants in the world. Look for rare and endemic Hawaiian tree snails, with their colorful and varied shell patterns. Once abundant throughout the islands, more than three quarters of Hawaii's native tree snails have gone extinct because of shell collection, habitat loss, and introduced predators. Learn about the history of Hakalau Forest NWR and the efforts underway to restore the forest and ecosystem.
In the afternoon, depart for the Mauna Kea Visitors Information Center (VIS), located on the slopes of the Mauna Kea volcano at 9,000 feet. Learn about the astronomic research conduced at the summit observatories, view the sun through a solar telescope, watch the sunset, and stargaze the nighttime Hawaiian skies.
(It is possible that a maximum of 10 participants—on a first-come-first-served basis—may be able to ascend to the summit at 14,000 feet if the weather and local politics allow and the stars align.)
Please note: Traveling to the Mauna Kea VIS requires spending time at 9,000. Because of the altitude and the quick ascent from sea level, the journey to the Mauna Kea VIS is not recommend for those with respiratory, circulatory or heart conditions, are pregnant or in poor health, or for those who have been scuba diving in the previous 24 hours. To participate, you should also be able to walk on uneven or rocky terrain.
For those not participating in the trip to the Mauna Kea VIS, your tour director will help you plan your day. You can relax at the Hilo House, explore the fun shops, galleries, cafes, and markets of downtown Hilo, or enjoy a traditional lomi-lomi massage at the local spa.
(B, D)
Friday, March 11: HAWAII VOLCANOES NATIONAL PARK
Hawaii Volcanoes National Park encompasses two active volcanoes: Kilauea, one of the world's most active volcanoes, and Mauna Loa, the world's most massive volcano. In recognition of the need to preserve Hawaii's outstanding natural environment, Hawaii Volcanoes National Park was designated as an International Biosphere Reserve in 1980 and a UNESCO World Heritage Site in 1987. The park gives scientists insight into the birth of the Hawaiian Islands and supports ongoing studies into the processes of volcanism.
Spend the day exploring Hawaii Volcanoes National Park. Experience the dramatic volcanic landscapes and rare flora and fauna found here. Explore Kipuka Puaulu, or Bird Park, an island of older vegetation completely surrounded by more recent lava flows. Take a one-mile walk around the koa and 'ohia trees and look for 'Apapane, 'Amakiki and I'iwi. Then continue on to the Jaggar Museum Overlook, the best and closest place to observe a volcanic crater, and other vantage points that provide views of Halema'uma'u Crater. During daylight, the robust plume of volcanic gas is a constant and dramatic reminder of the molten rock churning in a lava lake beneath the crater floor. Look out for white-tailed tropicbirds soaring above the crater.
For lunch, enjoy a picnic of island specialties, including delicious tropical fruit. Take an optional four-mile hike of Kilauea Iki trail, an invigorating and intimate way to experience the volcanic terrain and ecology. Descend the lush crater walls, explore the lava flows of the crater, and then ascend back up the crater walls. Keep your eyes open for Nene, the Hawaiian goose.
After exploring the park, settle in for a sunset dinner. Then, emerge to watch the vivid glow of Halema'uma'u, which illuminates the clouds and the plume as it billows into the night sky.
(B, L, D)
Saturday, March 12: WAIPI'O VALLEY, BOTANICAL GARDEN, HAWAIIAN CULTURAL SHOW
Following breakfast, tour the bustling Hilo Farmers' Market. Afterward, drive to and immerse yourself in this dramatic landscape surrounded by cliffs thousands of feet high. The valley is the childhood home of King Kamehameha I and an important center for political and religious life in Hawaii. Waipi'o Valley was once the home of thousands of native Hawaiians. Today, fewer than 100 residents live among its taro fields and rivers. Hawaii Island's tallest waterfall, Hi'ilawe Falls, cascades down 1,300 feet in the back of Waipi'o.
Enjoy a picnic lunch at the Kolopa forest reserve. In the afternoon, tour the famous Hawaii Tropical Botanical Garden. This 40-acre "garden in a valley on the ocean," situated on the lush Hamakua coast, is a naturally formed greenhouse benefiting from fertile volcanic soil and natural protection from trade winds. Photographers, gardeners, botanists, scientists, and nature lovers from around the world are drawn to this museum of living plants. Over 2,000 species, representing more than 125 families and 750 genera, are found in this one-of-a-kind garden. Throughout this garden valley, nature trails meander through the tropical rainforest, crossing bubbling streams, passing several beautiful waterfalls, and offering exciting ocean vistas along the rugged Pacific coast.
In the evening, enjoy a special farewell at the Hilo House, where a delectable Hawaiian banquet accompanied by Hawaiian cultural experts and musicians make for the perfect end of your authentic Hawaiian experience.
(B, L, D)
Sunday, March 13: DEPARTURE DAY
After breakfast, transfer to the Hilo Airport for your departure. House check-out time is 10:30 a.m. If your flight departs late afternoon or evening, please speak with your tour manager about arrangements.
(B)