Arctic Svalbard: Expedition to the Land of the Ice Bears
June 11-21, 2016
PROGRAM NEAR CAPACITY: Act now to reserve your place.
The registration period for this program has passed.
Please contact us if you have any questions.
Join our e-mail list to be alerted when new course information is available (late December).
A mere 600 miles from the North Pole, Norway's Svalbard is a place of deep fjords, snowcapped mountains, and massive glaciers.
Once a whaling base and coal mining region, Svalbard is now a center of space and agricultural research as well as the northernmost place in the world with a permanent human population. Alongside that human presence, the fragile natural environment is protected by seven national parks and many nature reserves.
On this expedition, under the midnight sun of June, we'll observe polar bears, walrus, reindeer, and other Arctic wildlife, including a rich and diverse population of seabirds. We'll cruise Svalbard's fjords, venture to the foot of stunning tidewater glaciers, and, aboard Zodiacs and kayaks, maneuver among beautiful icebergs. We'll learn about the geology of the region and enjoy the wildflowers that lend color to the High Arctic.
Leading our study will be Scott Taylor of Cornell's Lab of Ornithology, an expert on seabirds and a superb evolutionary biologist. In company with the exceptional National Geographic naturalists aboard the Explorer, one of the world's best-equipped expedition ships, Scott will teach us much about the surprising forces of life that thrive in the permafrost, tundra, and ice of a bracing and windswept domain.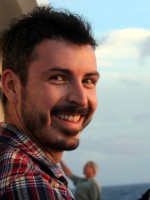 Scott A. Taylor
Scott Taylor, formerly of Cornell's Lab of Ornithology, teaches in the Department of Ecology and Evolutionary Biology at the University of Colorado at Boulder and leads the Taylor Lab on hybridization, speciation, and natural history.
Scott Taylor joined Cornell's Lab of... > more
The Lab of Ornithology, a Cornell and national treasure, works to interpret and conserve the earth's biological diversity through research, education, and citizen science.
Program notes
Double occupancy starting at: $10,145 per person
Single occupancy starting at: $13,405 per person
See What's included?
Fitness scale: Slightly strenuous. May require extended walking over uneven ground as well as the ability to climb stairs and to stand for considerable periods of time.
Itinerary
Days 1 and 2: U.S. / Oslo, Norway
Depart on an overnight flight to Oslo. Upon arrival, check into the Thon Hotel Bristol (or similar). Explore this charming city, and stroll among the famed Vigeland sculptures—hundreds of life-size human figures set in terraced parkland. Visit the Fram Museum, dedicated to the wooden ship sailed by Norwegian explorers Nansen and Amundsen.
Day 3: Oslo / Longyearbyen / Embark
Depart Oslo on a charter flight and enjoy breathtaking vistas en route to Longyearbyen. Embark National Geographic Explorer, your base for the next six days.
(B, L, D)
Days 4–9: Exploring Svalbard
This voyage is undertaken in the spirit of discovery, and our travel in the archipelago is exploratory by design. In a region ruled not by humans but by polar bears, we let nature guide our course.
Svalbard lies north of the Arctic Circle, where the summer midnight sun never sets. With our fully stabilized ice-class expedition ship, we are able to probe the ice in search of wildlife. Our exact day-to-day itinerary remains flexible, depending on local ice and weather conditions.
Zodiacs and kayaks take us closer to experience the region's geologic features and the wildlife that flourishes during the summer months. With our National Geographic photographer and a seasoned naturalist staff, venture to the foot of vast tidewater glaciers, kayak among sparkling icebergs, and explore fjords that split the coastline. Hike through miniature gardens blooming on the tundra and search the edge of the pack ice for polar bears, walruses, seals, reindeer, and arctic foxes. Nowhere can the polar bear be seen more reliably in its natural environment than here.
(B, L, D)
Day 10: Longyearbyen / Disembark / Oslo
In Longyearbyen, the largest settlement in Svalbard, disembark and enjoy time to explore. Founded by an American coal executive in 1906, this is one of the northernmost human settlements on Earth. Fly back to Oslo and spend the night at the Radisson Blu Airport Hotel.
(B, L)
Day 11: Oslo / Fly to U.S.
(B)
Map