South Africa: Nature and Human Nature
November 26-December 6, 2017
The registration period for this program has passed.
Please contact us if you have any questions.
Join our e-mail list to be alerted when new course information is available (late December).
From its exceptional biodiversity to its complex and troubled social and political history, South Africa provides an extraordinary study of nature and human nature. Join CAU as we explore both in the company of Adriaan Dokter, a naturalist from Cornell's acclaimed Lab of Ornithology.
In Cape Town, we'll visit a township and the Company's Garden, which will give us a better understanding of the history of apartheid. At Robben Island, we'll see Nelson Mandela's tiny cell and have a home-hosted dinner with Christo Brand, Mandela's warder. We'll also take aerial tram rides to spectacular Table Mountain National Park and Cape Peninsula, then visit Boulders Beach with its resident population of rare penguins.
Leaving Cape Town, we'll fly to our safari home at Thornybush Game Lodge, a private preserve, where we'll enjoy dawn and dusk game drives and nature walks in the bush with experienced guides. We'll see elephants, lions, rhinos, impalas, warthogs, and a wealth of birds, from Marabou Storks to Southern Carmine Bee-eaters, when all of them are most active.
We'll fly to Johannesburg, where we will tour the Apartheid Museum and the inner city neighborhood of Maboneng, now a thriving center of art and commerce. A local activist will guide us through Kliptown, the oldest residential district of Soweto, where the Freedom Charter was signed in 1955.
Program leader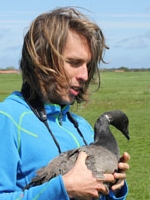 Adriaan Dokter
Adriaan Dokter is an ecologist with a background in physics and an interest in animal movement and foraging ecology. His research bridges the disciplines of physics, meteorology, computer science, and ecology.
At Cornell's Lab of Ornithology, Adriaan currently studies the migration... > more
The Lab of Ornithology, a Cornell and national treasure, works to interpret and conserve the earth's biological diversity through research, education, and citizen science.
Program notes
Download the program itinerary.
Double occupancy: $9,625 per person
Single supplement: $1,500 per person
See What's included?
Fitness scale: Moderately strenuous. Assumes the ability to walk for more than a mile over terrain that is sometimes rough, with varying elevations. A good sense of balance and athletic shoes or hiking boots are essential, and walking poles may be desirable.
Thorynybush Game Lodge room
Preliminary itinerary
November 27: Arrive Cape Town
Upon arrival at Cape Town International Airport (CPT), you will be met by your private guide, who will accompany you throughout your trip. Private transfer to your hotel.
Relax and/or have lunch (not included) before the afternoon excursion. For those who want to eat lunch, your guide can help with suggestions. Cape Town has a wide variety of restaurants. Your guide can also assist with money exchange and any other issues, questions, etc.
Visit Table Mountain (weather and flight timing permitting). You'll take an aerial tram ride to the 3,558-foot summit of Table Mountain, a national park and part of the Cape Floristic Region, a UNESCO World Heritage Site. Walk the network of paths that crisscross the flat summit and photograph the entire Cape Peninsula, surrounding ocean, and the beautiful city.
Enjoy a welcome reception.
Southern Sun the Cullinan (D)
November 28: Cape Town Excursions
If you were not able to visit Table Mountain yesterday, you can enjoy this excursion this morning. Otherwise, enjoy a walk down Government Avenue and through the Company's Garden, a park and heritage site created in the 1650s by the region's first European settlers. Your guide will provide historical and current information about the two worlds that exist here, the antiquated world of the old Cape Colony with its Victorian sensibility and heritage, and another, more modern world, which is brought to life by the new developments.
There is a lot to see here as many of Cape Town's important cultural sites can be accessed from the gardens, such as the South African Library, the National Gallery, Jewish and Holocaust museums, the Georgian Townhouse, Bertram House, the South African Museum, and the Cultural History Museum. At the bottom end the avenue meets Adderley Street, flanked by the Slave Museum and St. George's Cathedral.
We'll visit Bo-Kaap, the only area in the city of Cape Town where the Cape Malay community was not forcefully removed. It is a bright and colorful area that is one of the most photographed places in Cape Town. The visit to this area offers an opportunity for interaction with local women. Having lunch together provides a unique opportunity to spend some time in the community and to learn about people's lives, culture, and cuisine.
Afternoon at leisure and dinner on your own.
Southern Sun the Cullinan (B, L)
November 29: Cape Town Excursions
Take a personalized tour of a township, led by an expert. Townships were created as dormitory-styled, racially divided suburbs for black South Africans. On a walking tour of the area you'll see different housing and socio-economic areas and gain insight into the history and development of the township. A visit to a township is an important part of the South Africa experience, helping visitors to understand the history of apartheid and to witness firsthand the growth of the communities since it was abolished.
Enjoy and participate in a drumming circle. This is a hands-on opportunity to do some drumming to the original rhythms of Africa. Learning the basic beats and join in a rhythmic orchestra conducted by a local drum teacher/leader.
After lunch, take a short ferry ride to Robben Island—once described by Nelson Mandela as "the harshest, most iron-fisted outpost in the South African penal system." Over the years, the 574-hectare island has been put to a variety of uses. It has been used as a pantry, a hospital, a whaling station, a mental asylum, a leprosy colony, a military camp, and a maximum security prison to house anti-apartheid activists. Today Robben Island is a living museum and World Heritage Site, a tangible reminder of the past and a symbol of hope for the future.
Home-hosted dinner provided with Christo Brand (Mandela's warder), who will discuss his book along with anecdotal stories.
Southern Sun the Cullinan (B, L, D)
November 30: Cape Peninsula Tour
Today you will have a full-day tour. The Cape Peninsula tour takes in the whole of the southern peninsula, through the different areas of Table Mountain National Park. Starting from Cape Town, we'll travel along the coastal road down to Hout Bay and then over Chapman's Peak. At the very tip is Cape Point, the most southwesterly point of Africa, the place at which legend claims the Atlantic and Indian Oceans merge. The sea cliff is one of the highest in the world. Named the "Cape of Storms," this rocky headland was treated with respect by sailors for centuries. By day it was a navigational landmark, and by night, and in fog, it was a menace beset by violent storms and dangerous rocks that littered shipwrecks around the coastline.
Ride a funicular to the historical area. You'll also visit Boulders Beach, home to a land-based breeding colony of the rare African penguin.
Southern Sun the Cullinan (B, L)
December 1: Cape Town / Safari
After breakfast and check out, you will be transferred to Hoedspruit/Nelspruit airport for your flight to your safari. Upon arrival you will be met and transferred to the lodge, where lunch will be provided.
Enjoy an afternoon game drive, followed by dinner at the lodge.
Thornybush Game Lodge (B, L, D)
December 2: On Safari
Stay tuned: details about safari days will be posted as soon as they're available!
Thornybush Game Lodge (B, L, D)
December 3: On Safari
Stay tuned: details about safari days will be posted as soon as they're available!
Thornybush Game Lodge (B, L, D)
December 4: Safari / Johannesburg
After an early morning game drive and breakfast, return to Johannesburg.
Take a walking tour of Maboneng to see and learn about its history, markets, food, and street art. A Sotho word meaning "place of light," Maboneng is a fitting name for a district that has fast become a center of creative energy for Johannesburg's urban artists. With a mix of art galleries and retail and studio space, the precinct attracts the inner-city public as well as the chic, art-going crowd of the city's northern suburbs, bringing life back into downtown Johannesburg.
Transfer to Da Vinci Hotel; dinner on your own.
Da Vinci (B, L)
December 5: Johannesburg
Visit the Apartheid Museum, the pre-eminent museum in the world dealing with 20th century South Africa, at the heart of which is the apartheid story. A series of exhibition areas will take us through a dramatic journey that tells a story of a state-sanctioned system based on racial discrimination and the struggle of the majority to overthrow this tyranny. For anyone wanting to understand and experience what apartheid in South Africa was really like, a visit to the Apartheid Museum is an important addition to the itinerary.
After lunch in Soweto, we'll tour Kliptown, one of the oldest districts in Soweto, most famously known as the site where more than 3,000 people attended what became known as the Congress of the People in 1955 to adopt the Freedom Charter, a document in which oppressed South Africans formulated ideas of a society free from apartheid and which now forms the preamble to the constitution. Despite a police blockade barring the area, people came from far and wide to see the Freedom Charter signed in June of 1955, eager to see the beginnings of democracy form in the country.
Today, the population of Kliptown stands at roughly 45,000--bleak and poverty-stricken but proud and defiant. The area where the delegates met in 1955 is now a township bustling square with a marketplace for traders, offices, shops and a hotel. At the edge of the square is the Kliptown Open Air Museum, built in dedication to ANC stalwart Walter Sisulu. Through vibrant artworks, photographs, song, narration and newspaper clippings, it tells the story of how he and other leaders helped draft the Freedom Charter, the resistance they faced, and how the Charter ultimately formed the basis for South Africa's liberal constitution.
Dinner at Lebo's: Braai (barbecue) with live music.
Da Vinci (B, L, D)
December 6: Johannesburg
After breakfast and lunch at your leisure, you will be transferred to the airport for your return flight to the U.S.
(B, L)
Map