Thailand: Exploring Asia's Paradise - A Family-Friendly Holiday
From the delights of its capital, Bangkok, to the natural wonders of its national parks, Thailand is a jewel of a destination. This trip is designed for adults and families traveling with kids (eight and older) who seek nature, culture, and great adventure.
While in Bangkok, we'll ride a boat down the Chao Phraya River to the Temple of the Reclining Buddha and the Grand Palace. In Chiang Mai Province, we'll explore "the roof of Thailand," Doi Inthanon National Park, known for its spectacular views, waterfalls, temple ruins, and more than 300 species of birds, including the Yellow-cheeked Tit and the Green-tailed Sunbird. Throughout this tour, delightful CAU faculty leader Scott Taylor, an expert on birds and on evolutionary biology, will greatly enrich our appreciation of nature.
We'll visit the Karen hill tribe village and its working coffee plantation, ride an elephant at Patara Elephant Farm, and give alms at Thailand's most sacred Buddhist temple, Wat Phrathat. A little further south in Koh Yao Noi, we'll visit Hong Marine National Park, where we'll see gibbon monkeys up close. During this active tour, we'll also learn takraw (kick volleyball), zipline through a forest canopy, swim, and snorkel. Do join the fun!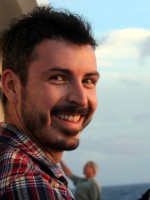 Scott A. Taylor
Scott Taylor, formerly of Cornell's Lab of Ornithology, teaches in the Department of Ecology and Evolutionary Biology at the University of Colorado at Boulder and leads the Taylor Lab on hybridization, speciation, and natural history.
Scott Taylor joined Cornell's Lab of... > more
Program notes
Double occupancy: $8,034 per person
Single supplement: $2,000 per person
Children/Teens: $6,455
See What's included?
Fitness scale: Moderately strenuous. Assumes the ability to walk for more than a mile over terrain that is sometimes rough, with varying elevations. A good sense of balance and athletic shoes or hiking boots are essential, and walking poles may be desirable.
Patara Elephant Farm, Chiang Mai Thailand
Preliminary itinerary
Day 1: Arrive Bangkok, Thailand
When you arrive in Bangkok, a tour guide will assist you with your luggage and with transferring to your hotel. You can take some time to relax and rest after a long flight—or get started right away with a tour of Bangkok's vibrant Chinatown.
Ramada Plaza Menam Riverside Hotel, or similar
Day 2: Bangkok
Your first full day in Thailand will begin with a boat journey down the Chao Phraya River to Wat Pho, the Temple of the Reclining Buddha—a statue of the Buddha that is 150 feet long and coated in gold leaf. This is one of the largest and oldest temples in Thailand and features fascinating traditional Thai art and architecture.
After lunch, you will continue your boat tour down the river and through the klongs (canals) of Bangkok, where you'll witness the daily life of Thai people making their way and bartering at floating markets. Stop to visit Bangkok's Grand Palace, long the residence of the kings of Siam, and later, of Thailand. You will also stop to see the Wat Phra Kaew temple, a massive complex near the Grand Palace. Wat Phra Kaew is the home of the Emerald Buddha statue.
Ramada Plaza Menam Riverside Hotel, or similar (B,L,D)
Day 3: Bangkok / Chiang Mai
Rise early and take a trip to the famous Bangkok Flower Market. You will watch the sidewalk slowly transform into a kaleidoscopic array of exotic, colorful flowers. Following breakfast, you will take a trip to the Museum of Floral Culture to learn more about the history and culture of Thailand's floral arts.
Transfer to the airport for your flight to Chiang Mai, known as the "Rose of the North," and eat lunch in a local restaurant before checking into your hotel. Take a short ride through the city to play the popular Southeast Asian game takraw, which is similar to volleyball but played by hitting the ball with the feet and knees rather than the hands. A takraw player will run a short training session before splitting the group into teams for a friendly game.
After returning to your hotel you'll be able to relax and enjoy dinner and an evening to yourselves.
Siripanna Villa Resort and Spa, or similar (B,L)
Day 4: Chiang Mai
Spend the day hiking and exploring around Doi Inthanon, Thailand's tallest mountain, at Doi Inthanon National Park. You will see fascinating flora and fauna near the many waterfalls we will pass, and you may even spot the green-tailed sunbird, found nowhere else on earth. Doi Inthanon National Park is home to 300 bird species.
The park is also home to villages of the indigenous Karen and Meo Hmong tribes. Your hike will take you through one of the Karen villages, where you will get to see their traditional way of life. From the Karen village, you will hike to the 200-foot Wachiratharn Waterfall, where the group will stop for lunch.
After returning to Chiang Mai, you'll enjoy a hands-on Thai cooking class in which youu'll learn to make traditional Thai dishes.
Siripanna Villa Resort and Spa, or similar (B,L,D)
Day 5: Chiang Mai
Take a trip to Patara Elephant Farm, a breeding farm and conservancy effort. You will learn what is involved in caring for elephants and protecting them as a species. Then you will get to ride an elephant through the rice paddy fields to a nearby waterfall for a picnic lunch.
You'll return to Chiang Mai from the Patara Elephant Farm, stopping at a local restaurant for dinner. From there, your guide will take you to Chiang Mai's colorful night market, where you will see stalls of silk, local crafts, imitation goods, and excellent works of Asian silver jewelry beads.
Siripanna Villa Resort and Spa, or similar (B,L,D)
Day 6: Chiang Mai
Leave early in the morning for Ton Payom Market, where you can buy the dishes you'll need to join the locals in a daily alms-giving ceremony. You will give boiled rice and condiments to the monks, and they will give you their blessings in return. After offering alms, you will visit the Buddhist temple Wat Phrathat Doi Suthep, one of the most sacred sites in Thailand and highly revered by Buddhists across the globe. The temple sits atop Doi Suthep Mountain and offers stunning views of Chiang Mai.
Journey through the back streets of Chiang Mai to Wat Puak Taem and Wualai Road. These areas are some of the last true Lanna arts districts in Chiang Mai. You will meet a family that practices the art of sculpting images of Buddha by hand, and you will see artisans working on creating silver jewelry, intricate handmade silver murals, and metal parasols. Many of the decorations on the temples in the city were made in this arts district.
Next you'll try the Flight of the Gibbon. Climb to the top of the rainforest canopy and take a zip-line back down to the bottom.
The rest of the evening will be free to have a leisurely dinner on your own.
Siripanna Villa Resort and Spa, or similar (B,L)
Day 7: Chiang Mai
On your last day in Chiang Mai, you'll head to Sri Lanna National Park. You will see the spectacular Bua Tong limestone waterfall and then continue on to Mae Ngat Dam. After kayaking on Mae Ngat Lake, you'll paddle out to a bamboo floating raft house for lunch. The rest of the afternoon will be free for you to explore the park with more kayaking or swimming, or even just to find a nice spot of beach to sunbathe and relax.
At night, visit a local temple to join the monks in their prayer chants. Dinner will be at a local restaurant offering Lanna, Burmese, and Shan cuisines. After dinner, visit the Waroros market, where you can find classic Thai sweets.
Siripanna Villa Resort and Spa, or similar (B,L,D)
Day 8: Chiang Mai / Phuket / Koh Yao Noi
After an early breakfast, transfer to the airport to fly south to Phuket. You will head to Phang Nga Bay, one of the most picturesque and sought-after locations in the world—featured even in blockbuster films. Phang Nga Bay has clear emerald and teal waters whose beauty is magnified by the limestone islands that rise out of the water. Take a private long-tail boat on a tour around the bay before having some free time to explore for hidden lagoons, pristine mangrove forests, and dramatic limestone formations by kayak. Enjoy lunch on a privately owned island.
Paradise Koh Yao, or similar (B,L,D)
Day 9: Koh Yao Noi
Spend the morning at Hong Marine National Park on Phang Nga bay. The park is exotic and tropical and offers plenty of exciting underwater activities. Swim with schools of colorful fish and snorkel down to find deep and shallow sea corals.
Head back to your hotel for a free afternoon. In the evening, you will enjoy a farewell dinner with your guide and fellow travelers. Afterwards, you will participate in a traditional Krathong ceremony in which each family will light a candle, set it in a banana leaf, and watch it float away on the water.
Paradise Koh Yao, or similar (B,D)
Day 10: Koh Yao Noi / Return Home
After breakfast, you'll be picked up by boat and brought back to Phuket where you'll visit the Gibbon Rehabilitation Project. This project is reintroducing Gibbons to their natural habitat in the rain forests of Thailand. The Gibbon was nearly extinct in the 1980s due to poaching. It's a great feeling to meet the people working tirelessly to save the Gibbon monkey.
Our visit to the Gibbon Rehabilitation Project will be followed by a transfer to the airport for your flight home.
(B)
Map