Tanzania: A Great Migration Safari
October 17-27, 2018
The registration period for this program has passed.
Please contact us if you have any questions.
Join our e-mail list to be alerted when new course information is available (late December).
Join us on a journey into one of the richest ecological regions on Earth, as we set out in Land Rovers and on foot to explore Tanzania's heart-stoppingly beautiful bird and animal habitats amid the unspoiled landscapes of the northern, eastern, and central Serengeti. October is the peak of the dry season and also the annual wildebeest migration, so most of the animals will congregate near the few remaining water sources. The famed Mara River in northern Serengeti will attract the largest herds of wildebeest and zebra at this time of year, and we'll observe predator–prey interaction and some amazing river crossings.
At the Eastern Serengeti Nature Refuge, we'll enjoy guided walks, Maasai village and school visits, night drives, elephant encounters, and seminars with conservationists. We'll round out our safari with visits to the Central Serengeti and its big cats and to Ngorongoro Crater with its diverse wildlife.
Leading our great migration adventure will be David Toews, expert birder and evolutionary biologist, postdoctoral fellow at Cornell's extraordinary Lab of Ornithology, and one of Canada's prestigious Banting Fellows. The accommodations for our tour are the Rivertrees Country Inn near Arusha and extremely comfortable private tent camps in the eastern and northern Serengeti and in the Serengeti National Park. We'll end with two nights at award-winning Gibb's Farms, of which previous CAUers have asked, "Is this Eden or is it Heaven?"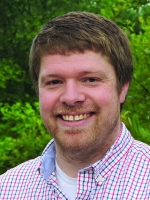 David Toews
David Toews is a postdoctoral fellow working in the Lovette Lab at the Cornell Lab of Ornithology and one of Canada's prestigious Banting Fellows. He recently finished his PhD in the Irwin Lab at the University of British Columbia.
...
> more
The Lab of Ornithology, a Cornell and national treasure, works to interpret and conserve the earth's biological diversity through research, education, and citizen science.
Program notes
Double occupancy: $9,985 per person.
Single supplement: $750 per person.
See What's included?
Activity level: Slightly strenuous. May require extended walking over uneven ground as well as the ability to climb stairs and to stand for considerable periods of time.
Preliminary itinerary
October 17: Leave U.S.
Depart from North America to Kilimanjaro Airport in Tanzania.
October 18: Arusha
Arrive at Arusha in the evening, via the Kilimanjaro Airport. A transfer will be provided to the Rivertrees Country Inn, where we'll be greeted with snacks and a briefing.
October 19: Eastern Serengeti Nyumba
We'll fly to the Eastern Serengeti Ecosystem to check into our nyumba (camp), where we will have lunch. The afternoon options include visiting a boma, which is a settlement of circular mud-and-dung Maasai homes, and enjoying a late afternoon walk with a guide. In the evening we'll be welcomed with a festive dinner.
(B, L, D)
October 20: Eastern Serengeti Nyumba
After a light breakfast, we will enjoy a morning hike through the Eastern Serengeti Ecosystem and attend a local Enjipai Women's Group meeting. Lunch and dinner will be served in our camp. A group of local Maasai warriors will visit our camp and perform a traditional dance. A Maasai storyteller will also visit. Later, we will take a night wildlife viewing drive through the plains.
(B, L, D)
October 21: Northern Serengeti Nyumba
After breakfast, we'll head west to the Serengeti National Park. Along the way, we'll visit a community development project such as a school, teachers' housing, or medical dispensary to learn how tourism can affect the community in positive ways. Boxed lunches will be served during our trek. We will spend the afternoon on a wildlife viewing tour of Serengeti. After dinner, the evening is yours to enjoy at leisure.
(B, L, D)
October 22: Northern Serengeti Nyumba
Full day of wildlife viewing in the Serengeti with boxed lunches en route.
(B, L, D)
October 23: Serengeti Nyumba
Full day of wildlife viewing in the Serengeti with boxed lunches en route.
(B, L, D)
October 24: Serengeti Nyumba
Starting our day with a dawn wildlife viewing, we will explore the local area as the sun rises. An afternoon expedition will allow us to spend more time seeking out wildlife and exploring the Serengeti's rich landscapes. Meals will be provided in our nyumba.
For a fee, an optional early morning Serengeti balloon excursion is available with reservation. Glide in a hot air balloon over the plains and acacia treetops. After your descent and landing, enjoy a magnificent champagne breakfast right in the midst of the Serengeti wilderness.
(B, L, D)
October 25: Gibb's Farm
Following our last wildlife viewing on the Serengeti, we will make our way to the Ngorongoro Highlands, where we will visit the Olduvai Gorge. A brief lecture and museum tour are included. At Gibb's Farm, you may choose to spend the afternoon relaxing on the verandah with tea, or take advantage of innumerable optional activities: a farm or garden tour, bird watching, coffee roasting, and more.
(B, L, D)
October 26: Gibb's Farm
A morning visit to the floor of Ngorongoro Crater will provide an opportunity for us to spot an awe-inspiring diversity of local species, from baboons and elephants in the Lerai Forest to wildebeest and mountain reedbuck over the crater's grassy floor. To maximize our wildlife viewing time on the crater floor, we will enjoy a picnic lunch near a hippo pool. After a farewell dinner, we'll relax around the Tembo Fire, an open-air sitting area nestled at the foot of gardens.
(B, L, D)
October 27: Mount Meru Hotel
Our last day in Tanzania will feature a bountiful breakfast, a stop for shopping, a visit to the Cultural Heritage Center, and a farewell lunch at the Arusha Coffee Lodge. In Arusha a day room will be available so we can freshen up for our group departure to the Kilimanjaro Airport.
(B, L)
October 28: U.S.
Arrive in North America
Map