Ecuador: Galapagos and the Andean Highlands--A Family-Friendly Expedition
December 18-28, 2018
The registration period for this program has passed.
Please contact us if you have any questions.
Join our e-mail list to be alerted when new course information is available (late December).
Combining the natural history of the Galapagos Islands with the rich culture and history of the Andes, this exhilarating itinerary covers two very different aspects of Ecuador.
Our adventure begins in Guayaquil with an extraordinary city tour of notable archeological, art, zoological, and recreational sites. We'll then fly to Baltra Island and settle into our comfortable accommodations on board Santa Cruz II.
We'll explore and snorkel on Isabella Island, home to cormorants, penguins, fur seals, and boobies. We'll visit Fernandina Island, with its marine iguanas, sea lions, and flightless cormorants; Puerto Ayora and its Charles Darwin Research Station; Santa Cruz Island and its tortoise reserve; and Champion Islet, with its extraordinary assemblage of birds and sea turtles. Wonderful for adults and families, this Galapagos tour is replete with extraordinary creatures and chances to swim and snorkel, sometimes among them.
After disembarking, we'll fly to the highlands, where we'll stay at a spectacular seventeenth-century restored hacienda and resort, perfect for hiking and relaxing. At journey's end, we'll return to Quito for a tour of the remarkable Rose Plantation. Deepening our understanding of Galapagos's role in inspiring Darwin's theory of evolution is faculty leader Scott Taylor—an exceptional evolutionary biologist, expert on birds (particularly sea birds), and lively travel companion.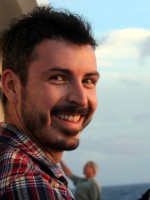 Scott A. Taylor
Scott Taylor, formerly of Cornell's Lab of Ornithology, teaches in the Department of Ecology and Evolutionary Biology at the University of Colorado at Boulder and leads the Taylor Lab on hybridization, speciation, and natural history.
Scott Taylor joined Cornell's Lab of... > more
The Lab of Ornithology, a Cornell and national treasure, works to interpret and conserve the earth's biological diversity through research, education, and citizen science.
Program notes
Double occupancy: $10,175 to $10,735 per person.
Children / Teens: $8,700 per person.
See What's included?
Activity level: Moderately strenuous. Assumes the ability to walk for more than a mile over terrain that is sometimes rough, with varying elevations. A good sense of balance and athletic shoes or hiking boots are essential, and walking poles may be desirable.
Galapagos Islands December 18-28, 2018
Preliminary itinerary
December 18: U.S./Guayaquil
After arriving in Guayaquil, Ecuador, we will be transferred to our hotel.
Hilton Colon
December 19: Guayaquil
After breakfast, we'll enjoy a walking tour of Guayaquil. We will stroll along the Malecón, a boardwalk along the Guayas River, past gardens, statues, and a children's park. We'll tour Las Peñas, a bohemian neighborhood that features colorfully restored buildings. At the foot of Las Peñas lies El Fortin de la Planchada, a fort built in 1647 to protect the city from pirates.
After a welcome lunch at the Hilton Colon, we will explore Seminario Park, also known as Iguana Park because of the hundreds of iguanas that roam the grounds and mingle amiably with the park's visitors. You can continue to explore independently in the late afternoon and evening.
Hilton Colon (B, L)
December 20: Guayaquil/Galapagos Islands
After breakfast, we'll fly to Baltra Island and transfer to the dock to board the Santa Cruz II and receive an introductory briefing and boat drill. Lunch and dinner will be on board.
Our first stop will be the north shore of Santa Cruz, which hosts the fascinating landscapes of Cerro Dragon (Dragon Hill). We'll walk past a lagoon of brackish water frequented by shorebirds, ducks, and flamingos.
Traveling inland, we'll enjoy beautiful views of the bay and of the western islands of the archipelago, where we'll have the chance to observe land iguanas.
Santa Cruz II (B, L, D)
December 21: Galapagos Islands
After breakfast we'll explore the coast by panga boat while our guide explains the dramatic geology of the area. We'll look for flightless cormorants, penguins, fur seals, and boobies—and, if the weather is right, we can snorkel along the cliffs, which are frequently visited by green sea turtles and oceanic sunfish (mola mola).
The afternoon will be dedicated to exploring Fernandina, the youngest island of the archipelago. Fernandina boasts a unique environment with a very high density of marine iguanas, who share their space with sea lions, Sally light-foot crabs, hawks, penguins, and flightless cormorants.
Santa Cruz II (B, L, D)
December 22: Galapagos Islands
In the morning, we'll disembark for a visit to the Charles Darwin Research Station's giant tortoise breeding center, which is within an impressive giant prickly-pear cactus forest. Following our visit, we'll board our transport to enjoy lunch in the cooler highlands of Santa Cruz Island, a completely different ecosystem.
You'll have several options for the afternoon, including beach walks, kayaking, and walks along the tortoise reserve. At the end of the afternoon we'll return to Puerto Ayora and the Santa Cruz II.
Santa Cruz II (B, L, D)
December 23: Galapagos Islands
Following breakfast and an optional panga ride along the maze of channels on Floreana's north shore, we'll continue to explore Baroness Cove with its breathtaking views of Floreana. We can snorkel off the beach.
Following lunch and a siesta, we'll take the pangas and glass-bottom boats to explore the underwater wonders around Champion Islet, an extinct shield volcano, regarded as one of the best spots for snorkeling in the archipelago. From there, it's on to Punta Cormorant, beginning with a wet landing on the olivine-crystal beach for an easy walk that includes a lagoon where bird species such as greater flamingos, pintail ducks, common stilts, herons, and sandpipers gather. We'll continue our walk to a white-sand beach, where sea turtles emerge from the sea at night to nest.
Santa Cruz II (B, L, D)
December 24: Galapagos Islands
Our exploration of the Galapagos will end at Baltra Island, where we will transfer to the airport to fly back to the mainland. After arriving in Quito and transferring to a beautifully restored seventeenth-century hacienda in the Highlands, we will enjoy a Christmas Eve dinner with our group.
Hacienda Cusin (B, L, D)
December 25: The Highlands
After breakfast at the hacienda, we will explore Otavalo market, where you can shop at artisanal stands and take pictures. We will then visit a Peguche village to see pre-Incan archaeological sites and sacred places.
After lunch at a local restaurant, we'll visit the Condor Park, which is filled with large numbers of endangered animal species, including the long-haired spider monkey, the white-chested swift, the spot-winged parrotlet, the Traylor's forest falcon, and the golden-plumed condor.
In the afternoon, optional horseback riding will be available (reservation required).
Hacienda Cusin (B, L, D)
December 26: Otavalo/Quito
This morning we'll take an excursion to Cuicocha, a dormant volcano filled with crystal-clear water, before dining at Puerto Lago, a country inn overlooking San Pablo Lake. After lunch we will visit a rose plantation and the Equator Monument. The Mitad del Mundo is the most popular place to visit the equatorial line in Ecuador.
After traveling to Quito in the late afternoon, we will check into our hotel. Dinner and evening activities are on your own.
Swissotel Quito (B, L)
December 27: Quito
We'll spend the day touring Quito, a city surrounded by three snow-capped volcanoes, peaceful valleys, and amazing forests just one hour away. A UNESCO World Heritage Site, Quito has one of the largest and best preserved colonial areas in Latin America. It offers one of the largest collections of baroque art in colonial architecture, sculpture, and paintings, displayed in large and small churches, convents, museums, and private collections.
Quito's modern area offers all the comforts of the twentieth century, including luxury hotels, gourmet restaurants, large shopping malls, theaters, art galleries, and an aerial tram. Following a full day of exploring Quito, we will have a farewell dinner at our hotel.
Swissotel Quito (B, L, D)
December 28: Quito/U.S.
After breakfast, our group will depart for the airport for our return home.
(B)
Map