New Zealand: From Auckland to Milford Sound by Sea
January 13-26, 2019
The registration period for this program has passed.
Please contact us if you have any questions.
Join our e-mail list to be alerted when new course information is available (late December).
From its tattooed Maori elders, austere glacial fiords, and boiling volcanic mud pots to its tidy English gardens, New Zealand is a country of spectacular contrasts—a world unto itself, isolated from other land masses by the Tasman Sea and Pacific Ocean.
Aboard the comfortable Caledonian Sky, we will visit all of New Zealand's major cities as well as some of its cultural centers and storied nature preserves.
We'll explore the heartland of Maori culture in Rotorua, visit the Canterbury Museum's Hall of Antarctic Discovery in Christchurch, and enjoy the Royal Albatross Centre on the Otago Peninsula.
We'll take Zodiac boats to Stewart Island to see native creatures such as the bellbird and marvel at the sheer granite walls and tumbling waterfalls of Doubtful and Milford Sounds in Fiordland, a region so remote it remains largely unchanged since the days of Captain Cook.
We will savor this study cruise in the company of a gifted Cornell ecologist and evolutionary biologist as well as with a historian from Harvard and a geoscientist from Smith—excellent guides to the human and natural history of remarkable New Zealand.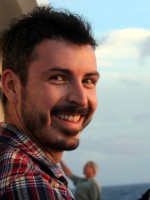 Scott A. Taylor
Scott Taylor, formerly of Cornell's Lab of Ornithology, teaches in the Department of Ecology and Evolutionary Biology at the University of Colorado at Boulder and leads the Taylor Lab on hybridization, speciation, and natural history.
Scott Taylor joined Cornell's Lab of... > more
The Lab of Ornithology, a Cornell and national treasure, works to interpret and conserve the earth's biological diversity through research, education, and citizen science.
Program notes
Double occupancy: starting at $8,990 per person.
Single supplement: please call CAU office.
See What's included?
Activity level: Slightly strenuous. May require extended walking over uneven ground as well as the ability to climb stairs and to stand for considerable periods of time.
Preliminary itinerary
January 13-15: Travel to Auckland, New Zealand
Depart home on an overnight flight to Auckland, the "City of Sails," on New Zealand's North Island. Lose one day crossing the International Date Line. This evening meet fellow travelers at a welcome reception.
Pullman Hotel (R)
Wednesday, January 16: Auckland (Embark)
Enjoy an overview motor coach tour of the city and a visit to the Auckland Museum to learn about New Zealand's indigenous Maori and Polynesian cultures from experienced docents. Following lunch, embark the Caledonian Sky and enjoy a welcome dinner this evening.
Caledonian Sky (B,L,D)
Thursday, January 17: Rotorua
Disembark in Tauranga and travel by motor coach to Rotorua, the heartland of Maori culture. Attend a private gathering with Maori elders at a special p whiri (welcome) ceremony including the traditional Maori haka dance. Observe the hot mud pools for which the Wai-O-Tapu thermal region is known, and enjoy a traditional h ngi ("earth oven") lunch.
Caledonian Sky (B,L,D)
Friday, January 18: At Sea
En route to Wellington, enjoy lectures, a tour of the ship's bridge, and time to relax.
Caledonian Sky (B,L,D)
Saturday, January 19: Wellington
Wellington is New Zealand's capital city, with colorful Victorian houses and a lovely harbor. Walk through the city's lush botanical garden and stop at Old St. Paul's Church, a Wellington landmark that exemplifies 19th-century Gothic Revival architecture adapted to colonial conditions and materials. Visit the spectacular waterfront museum Te Papa Tongarewa (Maori for "Repository of Things Precious") to learn about Maori myths and traditions, as well as their exceptional skills in navigating the Pacific to arrive on these islands. Enjoy an evening at leisure for independent exploration and optional dining in the city.
Caledonian Sky (B,L,)
Sunday, January 20: Marlborough Sounds
Cruise across Cook Strait between the North and South Islands and enter a world of pristine natural beauty. Anchor at Ship Cove, where Captain Cook arrived aboard the HMS Endeavour in 1770. Explore islands and inlets by Zodiac and, during short walks in the bush, keep an eye out for some of the wildlife Cook described in his reports, as well as rare birds such as the South Island saddleback, the bellbird, and the New Zealand robin.
Caledonian Sky (B,L,D)
Monday, January 21: Lyttelton - Christchurch
Disembark in the harbor at Lyttelton and drive to Christchurch, headquarters for "Operation Deep Freeze" and supply point for U.S. bases in the Antarctic. Explore the unique Canterbury Museum and its Hall of Antarctic Discovery, which preserves and exhibits fascinating historic artifacts from the exploits of Antarctic explorers. Then view an ethereal cathedral constructed of cardboard tubes and an innovative shipping container shopping mall, both part of Central Christchurch's innovative response to the damage of the 2011 earthquake. Round out the day with a visit to the Ohinetahi Garden, considered one of New Zealand's finest.
Caledonian Sky (B,L,D)
Tuesday, January 22: Dunedin
From Dunedin, widely regarded as the best-preserved Victorian and Edwardian heritage city in the southern hemisphere, drive to Taiaroa Head on the tip of the Otago Peninsula. This is the only mainland location in the world where it is possible to see northern royal albatrosses, the largest seabirds in the world, in their natural habitat. Special viewing areas have been constructed for observing these birds without disturbing their natural activities. Before returning to the ship, visit the Otago Museum's Southern Land, Southern People gallery, with its informative exhibits on the landforms, lost fauna and flora, and challenging climate of southern New Zealand.
Caledonian Sky (B,L,D)
Wednesday, January 23: Stewart Island
Anchor in Paterson Inlet to visit Stewart and Ulva islands. Stewart Island (Rakiura) is the southernmost inhabited outpost of New Zealand. With a population under 500, this quiet, seldom-visited wilderness oasis is an ornithologist's delight. Ulva Island is a sanctuary for both birds and plants, including species that are rare or extinct on the mainland. Naturalist guides lead bush walks for possible sightings of weka, k k , albatrosses, the flightless Stewart Island kiwi, silvereyes, and fantails.
Caledonian Sky (B,L,D)
Thursday, January 24: Doubtful & Dusky Sounds
When the glaciers covering Fiordland retreated 14,000 years ago, they left behind an extraordinarily serrated coastline, plunging fiords, and deep branching lakes, further enhanced by mist-shrouded mountains, cascading waterfalls, and vast beech forests. Explore this unspoiled waterway, well known for its wildlife, including fur seals and a resident pod of bottlenose dolphins. This evening celebrate your adventure at a festive farewell dinner aboard the ship.
Caledonian Sky (B,L,D)
Friday, January 25: Milford Sound (Disembark) - Queenstown
Before leaving Fiordland National Park, cruise close to iconic Mitre Peak and the towering cliffs and cascading waterfalls of spectacular Milford Sound. Then disembark and drive to Queenstown for an orientation coach tour and free time to explore the city on your own.
Novotel Queenstown Lakeside (B,L,D)
Saturday, January 26: Queenstown - Home
After breakfast, transfer to the airport for flights home, regaining the day lost on the inbound journey.
(B)
Map
GoogleMapAPI:createMarkerIcon: Error reading image: /common/images/map_markers/red0.png