Belize and Guatemala: Natural Wonders and Maya Traditions
March 29-April 7, 2019
Despite its small size, Belize combines Central American and Caribbean cultures with spectacular landscapes, while Guatemala mixes lively elements from Maya and Spanish culture. With skilled Cornell ecologists and wildlife biologists Cole Gilbert and Linda Rayor, we'll immerse ourselves in the natural beauty and fascinating traditions of both of these countries.
From Belize City, we'll fly to Chan Chich, an extraordinary rainforest lodge in the heart of an ancient city of the same name, whose Xunantunich Tower, the tallest Maya temple in Belize, testifies to the community's heyday from 600 to 900 AD. Maya descendants fluent in natural history will guide our explorations of the surrounding pristine forest, full of medicinal plants, orchids, 350 species of birds, and five species of big cats, as well as monkeys and tapirs.
In Guatemala, we'll visit the grand Maya city Tikal, with its plazas, massive altars, and temple pyramids towering above the surrounding Petan jungle. Its museums display treasures from centuries of archeological excavations. At Atitlan, a beautiful volcanic lake, we'll boat to Santa Cruz, a traditional village, and we'll end our journey in Antigua, an Old World Heritage Site, where we'll tour the colonial town, visit the Centro Cultural La Azotea, and enjoy a concert of Maya music.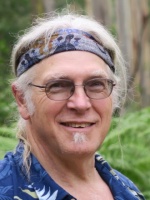 Cole Gilbert
Cole Gilbert is a professor in the Department of Entomology and the Hays and James M. Clark Director of Undergraduate Biology at Cornell and has been recognized for his teaching with awards from Cornell, the SUNY Chancellor and the Entomology... > more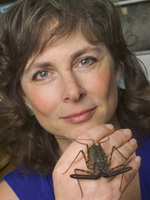 Linda Rayor
Linda Rayor, Department of Entomology at Cornell University, specializes in spider behavior and science outreach. Linda has won numerous teaching awards for her courses on Spider Biology, Insect Behavior, and a course on how to do effective scientific outreach.... > more
Program notes
Double occupancy: $8,956
Single supplement: $1,250 (limited)
See What's included?
Activity level: Moderately strenuous. Assumes the ability to walk for more than a mile over terrain that is sometimes rough, with varying elevations. A good sense of balance and athletic shoes or hiking boots are essential, and walking poles may be desirable.
Preliminary itinerary
March 29: Leave U.S.
Depart from U.S. to Belize City, Belize.
March 29: Arrive at Gallon Jug Estate
Upon arrival in Belize City, our group will meet and connect with a 30-minute charter flight to Chan Chich Lodge on Gallon Jug Estate. In remote north-western Belize, referred to as La Selva Maya, the largest contiguous forest north of the Amazon basin, the lodge is surrounded by pristine forest, and with strong conservation efforts, wildlife here has thrived. Upon arrival you can relax and soak in the surrounding beauty before a welcome dinner at the lodge.
Chan Chich Lodge (D)
March 30-31: Chan Chich
For the next two days we'll take in the beauty of Belize. The adventure begins on the porch of your cabana where you may see parrots, parakeets, keel-billed toucans, oropendolas, tanagers, and grey fox. Over 350 species of birds have been recorded at Chan Chich. Large birds such as the Crested Guan and Great Curassow are often seen here. In addition,it's home to all five cat species: jaguar, puma, ocelot, margay, and jaguarondi. We will take guided walks of the trails in this lush forest surrounded by towering trees, delicate orchids, bromeliads, and a variety of ferns. In the evenings we will take a guided night safari on specially designed trucks mounted with stoplights to scope out nocturnal fauna.
Chan Chich Lodge (2B, 2L, 2D)
April 1: Xunantunich
Following breakfast at the lodge and a short charter flight, we will drive to the nearby Xunantunich Maya Site. An impressive well-excavated site, Xunantunich was a thriving Maya city during the Classic Period, 600 to 900 A.D. We reach this major ceremonial center by crossing the Mopan River aboard a hand-cranked car-ferry. Once there, the site provides an impressive view of the entire river valley. Its centerpiece, El Castillo, rises 120 feet above the plaza, making it one of the tallest buildings in Belize. After stopping for lunch in a local establishment, we will continue to travel to the Petén jungle in Guatemala where Tikal is located. Once checked in at our hotel, Hotel Camino Real Tikal, we will have a dinner and lecture before a relaxing evening on your own.
Hotel Camino Real Tikal (B, L, D)
April 2: Tikal
We will explore Tikal, one of the grandest of the Mayan cities throughout the day. Tikal flourished from A.D. 250 to 900, then suddenly collapsed around A.D. 900 when its population vanished. The jungle closed over the ancient metropolis and for a thousand years it lay buried under its cover. Plazas, deep reservoirs, carved stelae, and massive altars now rise from the rainforest floor. A UNESCO World Heritage Site, Tikal has been under excavation and reconstruction since the late 1950s and is located within a national park, which provides excellent opportunities for wildlife viewing. We will also visit the Tikal Museum and the Lithic and Stelae Museums to view treasures from excavations.
Hotel Camino Real Tikal (B, L, D)
April 3: Lake Atitlán
After breakfast at the Hotel Camino Real Tikal, we will take a morning flight to Guatemala City and transfer to Lake Atitlán. Stopping at the archaeological site of Iximché, which once served as the capital of the Kaquchiquel Mayas, we will gain a better understanding of Maya beliefs. After a traditional Maya ceremony and lunch, we will resume the drive to Atitlán. A breathtaking lake with volcanic panoramas, Atitlán is considered one of the most beautiful volcanic lakes in the world. After our check-in at Hotel Atitlán, we may visit the nearby village of Panajachel, which is great for walking and seeing the local textiles and handicrafts.
Hotel Atitlán (B, L, D)
April 4: Santa Cruz/San Juan la Laguna
After breakfast at the hotel, we'll take a boat ride to Santa Cruz, one of twelve villages located around the lake, all with striking, distinctive indigenous dress and traditions. We will walk through the town, see the foot-loom art inside native homes and learn about weaving. After lunch on your own, we will continue by boat to the beautiful town of San Juan La Laguna where the Tz'utujil Maya live, or visit the village of Santiago La Laguna. We will return to the hotel with time to explore the beautiful vistas of Lake Atitlán and the lovely gardens of the hotel.
Hotel Atitlán (B, D)
April 5: Antigua Guatamala
Take an optional guided morning walk through the cloud forest behind the hotel before departing for the town of Antigua, Guatemala. We will stop to visit the authentic Indian market of Sololá, a true local experience. The market, which overlooks Lake Atitlán, is one of Central America's finest, drawing indigenous people from all over the highlands. We can wander the range of goods for sale and behold stunning mountainside views of the lake. Dinner and evening activities are on your own after we continue to Antigua and check into our hotel.
Camino Real Antigua (B, L)
April 6: Antigua
At 5,000 feet in a valley surrounded by 14,000-foot volcanoes, Antigua is one of the most charming of the colonial towns of the Americas and a UNESCO World Heritage Site. This mornings walking tour starts at the Central Park and includes the Ayuntamiento (administrative building), Cathedral, Convent of the Capuchinas, and Merced Church, among other sites. We'll continue to Casa K'Ojom for a presentation of Maya music, and visit the Centro Cultural La Azotea to see a collection of typical dress from the region.
Camino Real Antigua (B, L, D)
April 7: U.S.
Depart Antigua for your return flight home.
Map