Winning and Losing the Civil War
October 21-25, 2019
The registration period for this program has passed.
Please contact us if you have any questions.
Join our e-mail list to be alerted when new course information is available (late December).
A war is won and lost by the long application of violence and by the death of thousands, their "last full measure," as Abraham Lincoln put it in the Gettysburg Address. The Civil War was no exception, and it was won and lost on the Eastern Front, where generals including Robert E. Lee, Stonewall Jackson, George McClellan, and Ulysses S. Grant made their names. The Eastern Front was the most important theater in the most important war in American history and we will explore how victory and defeat came to each side.
With Washington, DC as our base, we will start each day with a lecture by Cornell historian David Silbey on the course of the war. We'll then head out to the scenes of three of the war's most consequential battles: Antietam, the bloodiest single day in American history and the battle that led Lincoln to issue the Emancipation Proclamation; Gettysburg, the turning point of the Civil War and the so-called "High Water Mark of the Confederacy"; and Petersburg, the battle that ended the war in the East. We'll tour each site for a visceral feel and intellectual grasp of the battles' horrors, triumphs, and effects as the war progressed.
The Civil War is also about the human moments, and so we will visit Fort Stevens in DC itself, where Abraham Lincoln came to look at a Confederate raiding party in 1864.
As Lincoln stood pensively on the fortifications, embarrassed by the raid and doubting his reelection, he was exposed to sniper fire, until—so the story goes—one junior officer shouted at him to "get down, you damn fool."
In the news
Read more about this study tour in "Cornell Historian to Lead New Civil War Tour Next Fall", Cornell Daily Sun, October 23, 2018.
Itinerary
View the daily schedule (PDF).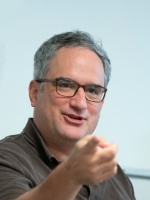 David Silbey
David Silbey is the associate director of the Cornell in Washington program and a senior lecturer at Cornell. He teaches courses on European history, modern military history, guerilla conflicts, and the role of popular will in waging war.
Silbey received... > more
Program notes
Double occupancy: $3,277
Single supplement: $700
See What's included?
Activity level: Slightly strenuous. May require extended walking over uneven ground as well as the ability to climb stairs and to stand for considerable periods of time.