Costa Rica: An Ecological Family-Friendly Adventure
December 21-29, 2019
With its lush rainforests, pristine coastal beaches, diverse animal life, and friendly culture, Costa Rica is a memorable destination for adults and families with children.
In the company of superb naturalist and evolutionary biologist Scott Taylor, we'll ascend the world-famous Irazu Volcano to enjoy the breathtaking view from the 11,000-foot summit. At Tortuguero National Park—a plant, wildlife, and bird paradise—we'll visit the Sea Turtle Conservancy and kayak through the park's maze of canals and thick mangrove trees, observing monkeys, iguanas, and crocodiles. On a jungle boat expedition, we'll close in on river otters, caiman, and poison dart frogs and disembark to observe three-toed sloths, river turtles, toucans, and parrots.
En route to the Manuel Antonio National Park on the Pacific, we'll zipline, swing, and rappel through the forest canopy. At the park, we'll savor our accommodations at the luxurious Hotel Parador Resort and Spa, with its self-guided garden and wildlife trails and dance parties for all ages. We'll walk, swim, snorkel, and maybe even learn to surf. Before parting, we'll also stop for an outrigger canoe trip.
What an adventure to enjoy by yourself, with family, or with a friend!
Itinerary
View the daily schedule (PDF).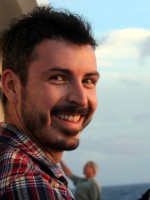 Scott A. Taylor
Scott Taylor, formerly of Cornell's Lab of Ornithology, teaches in the Department of Ecology and Evolutionary Biology at the University of Colorado at Boulder and leads the Taylor Lab on hybridization, speciation, and natural history.
Scott Taylor joined Cornell's Lab of... > more
Program notes
Double occupancy: $5,995
Single supplement: $1,200
Open to children ages 8 and up. Child double occupancy: $4,398
See What's included?
Activity level: Moderately strenuous. Assumes the ability to walk for more than a mile over terrain that is sometimes rough, with varying elevations. A good sense of balance and athletic shoes or hiking boots are essential, and walking poles may be desirable.