Muslims, Christians, and Jews in Sicily, Crossroads of Medieval Civilization
May 17-25, 2020
There is still space available in this program.
Registration deadline: 02/17/2020
Register now!
The Italian island of Sicily was once a crossroads of Latin, Byzantine Greek, and Arabic cultures. Like the Iberian Peninsula, medieval Sicily was a place occupied by Christians and Muslims and periodically subjected to fierce conflicts between them. Despite these times, Muslims and Christians and tiny Jewish communities lived together with a remarkable degree of tolerance, benefiting from the cross currents of peoples, religions, cultures, even cuisines. Ross Brann, an engaged intellectual guide and delightful travel companion, will lead our exploration of such Sicilian cities as Palermo, Messina, Catania, Siracusa, and Ragusa, as we visit sites central to the cultural richness and conflicts of Sicily in the Middle Ages.
Post-extension tour (May 25-31, 2020): Tunisia: Hub of the Mediterranean
Continue to explore the themes of this Sicilian study tour by joining Ross in Tunisia, Africa, 96 miles from Sicily. We'll visit Tunis, nearby Carthage and Sidi Bou Said, and Qayrawan in the south. Tunisia played an important role in the ascendancy of Arabs in Sicily in the ninth century, and, in the twelfth century, Normans captured the coastal cities of Tunisia, so there is much to compare and contrast between the two regions. We'll also visit museums and souks and enjoy insiders' meetings with government officials, journalists, and academics.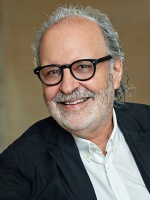 Ross Brann
Ross Brann is the Milton R. Konvitz Professor of Judeo-Islamic Studies and Stephen H. Weiss Presidential Fellow in the Department of Near Eastern Studies at Cornell. He has taught at Cornell University since 1986.
Ross is the author of Power in... > more
Itinerary
View the daily schedule (PDF) for Sicily.
Program notes
Double occupancy for main tour: $6,835
Single supplement for main tour: $575
Contact CAU for pricing and registration for the post-tour extension to Tunisia
See What's included?
Activity level: Slightly strenuous. May require extended walking over uneven ground as well as the ability to climb stairs and to stand for considerable periods of time.