Alaska: The Inside Passage -- A Family-Friendly Adventure
August 11-19, 2020
There is still space available in this program.
Registration deadline: 04/20/2020
Register now!
On this exciting late summer expedition—a joy for singles, couples, and families alike— we'll cruise along Alaska's Pacific coastline. Setting off from Vancouver, we'll tie up along cities and towns steeped in the history of Native Americans, Russian fur traders, and adventurers seeking gold. In Skagway, which served as gateway to the Klondike during the Gold Rush of the 1890s, we'll follow in the footsteps of prospectors and travel aboard the narrow-gauge railroad they built through the mountains.
We'll see the historic canneries that supported the Alaskan fishing industry in Haines, visit the American Bald Eagle Foundation's Raptor Center and the thriving community of Tsimshian people on Annette Island, and, by Zodiac, tour the many bays, coves, inlets, and islands of the Inside Passage.
Along the way, we'll watch breaching whales, schools of dolphin, and a wealth of other wildlife. Our engaging faculty leader, Suresh Sethi, whose research on oceanscapes ranges from tropical to subarctic regions, will lecture on such topics as the effects of rapid climate change on Alaskan species, the deep relationship between fisheries and Alaskana, and challenges to maintaining and restoring the ocean and freshwater habitats of the native salmon. We'll do all this from our home aboard the elegant and intimate Le Soleal, whose comforts, incomparable food, attentive staff, and excellent stabilizers ensure pleasurable days throughout.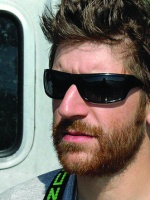 Suresh A Sethi
Suresh A. Sethi is an ecologist at Cornell's College of Agriculture and Life Sciences. His research around the world and in Alaska addresses information needs for resource management in aquatic and marine systems.
...
> more
Itinerary
View the daily schedule (PDF).
Program notes
Double occupancy: starts at $6,990
Single supplement: call us
See What's included?
Open to travelers ages 8 and up
Activity level: Moderately strenuous. Assumes the ability to walk for more than a mile over terrain that is sometimes rough, with varying elevations. A good sense of balance and athletic shoes or hiking boots are essential, and walking poles may be desirable.