Panama: Sloths, Monkeys, Pirates, and the Canal -- A Family-Friendly Adventure
December 18-26, 2020
EARLY BIRD discount -- register by Jan. 31, 2020 and save 5% off the program fee!
There is still space available in this program.
Registration deadline: 07/24/2020
Register now!
Panama's rain forests, warm sand beaches, abundant and highly visible wildlife, historic Spanish forts, Trans-Isthmian Railroad, and— oh yes—its canal, are captivating to kids and their parents and grandparents alike.
In the company of exceptional faculty leader Scott Taylor, evolutionary biologist and bird expert, we'll explore two appealing regions: Panama City, with its nearby nature reserves, and Bocas del Toro, a biologist's fantasy of an archipelago.
Highlights of the program will include a visit to the Sloth Sanctuary and the Rainforest Discovery Center. We'll travel by boat through the Pedro Miguel and Miraflores Locks of the Panama Canal, learning about the canal's history and operation. We'll also ride on the historic Panama Canal Railway to reach the forts at San Lorenzo, where the Spanish defended themselves against pirates.
We'll boat to the breathtaking Bastimentos Marine National Park in Bocas del Toro to snorkel among coral reefs and to kayak among the mangroves. We'll look for marine life and watch for birds, including the tiger herons, iguanas, reptiles, and howler monkeys.
The beaches are lovely and the water is clear. We'll learn about new cultures and make new friends. What an exhilarating way to spend a family holiday!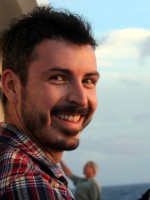 Scott A. Taylor
Scott Taylor, formerly of Cornell's Lab of Ornithology, teaches in the Department of Ecology and Evolutionary Biology at the University of Colorado at Boulder and leads the Taylor Lab on hybridization, speciation, and natural history.
Scott Taylor joined Cornell's Lab of... > more
Program notes
Adult double occupancy: $7,610
Adult single supplement: $900
Open to travelers ages 8 and up. Child/Teen rate: $4,574
Single child sharing room with single parent: $5,324
See What's included?
Activity level: Moderately strenuous. Assumes the ability to walk for more than a mile over terrain that is sometimes rough, with varying elevations. A good sense of balance and athletic shoes or hiking boots are essential, and walking poles may be desirable.