The Brave New World of Fiber
Week 1: July 7-13, 2013
The registration period for this program has passed.
Please contact us if you have any questions.
Join our e-mail list to be alerted when new course information is available (late December).
Once cotton was the "fabric of our lives"—but now the future has arrived with "miracle" fibers and fabrics that regulate our body temperatures in ways that go far beyond wicking, that reconnect our joints and organs, and that help to hold together space crafts and the suits of their occupants. Cornell researchers are engaged in cutting-edge research on and development of these extraordinary fabrications. Juan Hinestroza, who teaches fiber science and is director of Cornell's Textiles Nanotechnology Laboratory, will illuminate these developments for us, in lecture and in demonstrations of materials from the labs, providing an insider's view of the processes and products that are extending this frontier of science.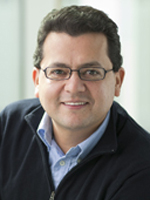 Juan Hinestroza
Juan P. Hinestroza is an associate professor of fiber science and directs the Textiles Nanotechnology Laboratory at Cornell's College of Human Ecology. He holds a PhD in chemical and biomolecular engineering from Tulane University and a BS in chemical... > more
Registration
Once you've registered, we'll send you materials on the academic program and other information to help you prepare for CAU. A $50 per person, per class, non-refundable deposit is required with your registration. All deposits are applied to the full program charges. Register now!
Program charges
Below are the program fees and housing choices for the on-campus summer programs. Please contact us if you have questions.
For those staying on campus, the program fee (per adult, per week) covers the course, lodging, sixteen meals, coffee breaks, hospitality hours, welcome and farewell parties, conference-lot parking fees, and use of most of Cornell's campus facilities. Some courses have additional fees. Wednesday supper is on your own. Some campus facilities, such as the golf course, also charge specific user fees. Weekly program rates vary with the accommodation you select:
Program fee including on-campus housing and meals
Court/Kay Hall: double occupancy per adult $1,932, single supplement $100
Room w/private bathroom: double occupancy per adult $1,990, single supplement $150
Program fee for commuters and for those staying at Hilton Homewood Suites*: $1,115
*This fee does not include housing or meals. If you wish to stay at Hilton Homewood Suites, please call 607.266.0000 to make a reservation in the CAU block.
Commuter meal plan option: $425. Most CAUers staying at Hilton Homewood Suites select our meal plan for the week in order to enjoy the full CAU experience.