Math: Personal Paths and Occasional Prodigies
Week 2:
This program is no longer available.
Please contact us if you have any questions.
In this intriguing seminar, we'll investigate our encounters with mathematics throughout our lives. We'll engage in the nature/nurture debate over the ways we learn math, consider what accounts for such extraordinary prodigies as Terence Tao, and study the characteristics of mathematicians, such as Leonhard Euler, who make brilliant, original contributions even at advanced ages. Mircea Pitici, who teaches mathematics courses at Cornell and is editor of Princeton University Press's annual series The Best Writing on Mathematics, will help us not to do math, but to understand the developmental, cognitive, and social aspects of our mathematical experience, from the fuzzy math of our babyhood through the computational processes of our maturity.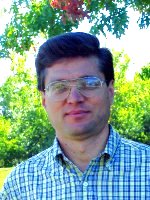 Mircea Pitici
Mircea has taught mathematics courses and writing seminars at Cornell University, Ithaca College, and Wells College. He received a teaching award from the Cornell Department of Mathematics in 2011 and the Buttrick-Crippen Scholarship awarded by the Knight Institute of Writing... > more
Registration
Registration is closed for this class. Please contact CAU if you have questions.
Program charges
Below are the program fees and housing choices for the on-campus summer programs. Please contact us if you have questions.
For those staying on campus, the program fee (per adult, per week) covers the course, lodging, sixteen meals, coffee breaks, hospitality hours, welcome and farewell parties, conference-lot parking fees, and use of most of Cornell's campus facilities. Some courses have additional fees. Wednesday supper is on your own. Some campus facilities, such as the golf course, also charge specific user fees. Weekly program rates vary with the accommodation you select:
Program fee including on-campus housing and meals
Court/Kay Hall: double occupancy per adult $1,932, single supplement $100
Room w/private bathroom: double occupancy per adult $1,990, single supplement $150
Program fee for commuters and for those staying at Hilton Homewood Suites*: $1,115
*This fee does not include housing or meals. If you wish to stay at Hilton Homewood Suites, please call 607.266.0000 to make a reservation in the CAU block.
Commuter meal plan option: $425. Most CAUers staying at Hilton Homewood Suites select our meal plan for the week in order to enjoy the full CAU experience.