Life on a Silken Thread
Week 3:
This program is no longer available.
Please contact us if you have any questions.
Spiders get remarkably bad press—yet they are highly beneficial members of every terrestrial ecosystem. The dominant terrestrial predators on Earth, spiders are nature's primary insect exterminators, helping to control many destructive and sometimes disease-bearing species in our houses and gardens. Linda Rayor, lecturer and senior research associate in the Department of Entomology, is the curator of one of the largest, most diverse spider collections in the country and the star of Science Channel's Monster Bug Wars. She will lead our exploration of many threads of spider biology and behavior. In lecture, in the field (including one nocturnal foray), and in the lab, we'll observe live spiders, scorpions, vinegaroons, and their cousins. We will discuss spider biology, predatory behavior, mate selection and courtship, poisonous spiders, social spiders, and spiders as agents of biological control. Be prepared to admire, and even grow fond of, these remarkable creatures!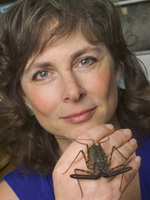 Linda Rayor
Linda Rayor, Department of Entomology at Cornell University, specializes in spider behavior and science outreach. Linda has won numerous teaching awards for her courses on Spider Biology, Insect Behavior, and a course on how to do effective scientific outreach.... > more
Registration
Registration is closed for this class. Please contact CAU if you have questions.
Program charges
Below are the program fees and housing choices for the on-campus summer programs. Please contact us if you have questions.
For those staying on campus, the program fee (per adult, per week) covers the course, lodging, sixteen meals, coffee breaks, hospitality hours, welcome and farewell parties, conference-lot parking fees, and use of most of Cornell's campus facilities. Some courses have additional fees. Wednesday supper is on your own. Some campus facilities, such as the golf course, also charge specific user fees. Weekly program rates vary with the accommodation you select:
Program fee including on-campus housing and meals
Court/Kay Hall: double occupancy per adult $1,932, single supplement $100
Room w/private bathroom: double occupancy per adult $1,990, single supplement $150
Program fee for commuters and for those staying at Hilton Homewood Suites*: $1,115
*This fee does not include housing or meals. If you wish to stay at Hilton Homewood Suites, please call 607.266.0000 to make a reservation in the CAU block.
Commuter meal plan option: $425. Most CAUers staying at Hilton Homewood Suites select our meal plan for the week in order to enjoy the full CAU experience.