Dark Streets, Alienation, and Betrayal in Film Noir
Week 1: July 5-11, 2015
The registration period for this program has passed.
Please contact us if you have any questions.
Join our e-mail list to be alerted when new course information is available (late December).
Raymond Chandler's crisp and unsettling observation that "the streets were dark with something more than night" points to the world of films in which darkness of various kinds operates outside the margins of reason, common sense, and happy endings. Now categorized as noir and gris, such films flourished in the forties and fifties.
We will screen and discuss a small set of these films from America and the U.K.: Double Indemnity (Wilder, 1944), The Big Sleep (Hawks, 1946), Gilda (Vidor, 1946), The Naked City (Dassin, 1948), and The Third Man (Reed, 1949).
We'll focus on their distinguishing cinematic form, their cultural settings, and their expressions of such unsavory psychological states as betrayal, frustration, greed, lust, envy, alienation, and rage.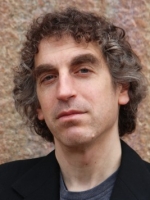 Jonathan Kirshner
Jonathan Kirshner is the Stephen and Barbara Friedman Professor of International Political Economy in the Department of Government at Cornell. His research and teaching interests focus on international relations, political economy (especially macroeconomics), and politics and film. He is currently... > more
Registration
Once you've registered, we'll send you materials on the academic program and other information to help you prepare for CAU. A $50 per person, per class, non-refundable deposit is required with your registration. All deposits are applied to the full program charges. Register now!
Program charges
Below are the program fees and housing choices for the on-campus summer programs. Please contact us if you have questions.
For those staying on campus, the program fee (per adult, per week) covers the course, lodging, sixteen meals, coffee breaks, hospitality hours, welcome and farewell parties, conference-lot parking fees, and use of most of Cornell's campus facilities. Some courses have additional fees. Wednesday supper is on your own. Some campus facilities, such as the golf course, also charge specific user fees. Weekly program rates vary with the accommodation you select:
Program fee including on-campus housing and meals
Court/Kay Hall: double occupancy per adult $1,932, single supplement $100
Room w/private bathroom: double occupancy per adult $1,990, single supplement $150
Program fee for commuters and for those staying at Hilton Homewood Suites*: $1,115
*This fee does not include housing or meals. If you wish to stay at Hilton Homewood Suites, please call 607.266.0000 to make a reservation in the CAU block.
Commuter meal plan option: $425. Most CAUers staying at Hilton Homewood Suites select our meal plan for the week in order to enjoy the full CAU experience.