Throwing Clay: A Pottery Studio Workshop
Week 1: July 3-9, 2016
The registration period for this program has passed.
Please contact us if you have any questions.
Join our e-mail list to be alerted when new course information is available (late December).
The A. David Tobin Seminar in the Arts
This class is designed for those who've had previous experience creating wheel-thrown pottery and those who have only dreamed of doing so. It will take place at the Clay School, the only facility in Ithaca with enough pottery wheels to welcome a group of ten students—of any level of experience. The director of the school, Julia Dean, and many of her colleagues taught in the Cornell Art Department's former ceramics program.
Through hands-on practice and a series of demonstrations, students will learn the fundamentals of this art, creating basic forms on the wheel from start to finish, including methods of glazing and introductory surface decoration. The class will also spend time building pieces from coils, extruded forms, and slabs of clay. Come prepared to lay your hands on this most fundamental medium and look forward to taking home one or two finished pieces. Materials fee: $100.
Watch a video about Julia and her work.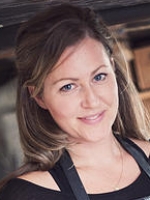 Julia Dean
"My love affair with clay started at the age of 10 when I watched a potter work on the wheel," writes Julia Dean, director of the Clay School in Ithaca. "It wasn't until college, however, that I took my first... > more
Registration
Once you've registered, we'll send you materials on the academic program and other information to help you prepare for CAU. A $50 per person, per class, non-refundable deposit is required with your registration. All deposits are applied to the full program charges. Register now!
Program charges
Below are the program fees and housing choices for the on-campus summer programs. Please contact us if you have questions.
For those staying on campus, the program fee (per adult, per week) covers the course, lodging, sixteen meals, coffee breaks, hospitality hours, welcome and farewell parties, conference-lot parking fees, and use of most of Cornell's campus facilities. Some courses have additional fees. Wednesday supper is on your own. Some campus facilities, such as the golf course, also charge specific user fees. Weekly program rates vary with the accommodation you select:
Program fee including on-campus housing and meals
Court/Kay Hall: double occupancy per adult $1,932, single supplement $100
Room w/private bathroom: double occupancy per adult $1,990, single supplement $150
Program fee for commuters and for those staying at Hilton Homewood Suites*: $1,115
*This fee does not include housing or meals. If you wish to stay at Hilton Homewood Suites, please call 607.266.0000 to make a reservation in the CAU block.
Commuter meal plan option: $425. Most CAUers staying at Hilton Homewood Suites select our meal plan for the week in order to enjoy the full CAU experience.