The Harried Gourmet: Tasty Meals in an Hour or Less
Week 1: July 3-9, 2016
The registration period for this program has passed.
Please contact us if you have any questions.
Join our e-mail list to be alerted when new course information is available (late December).
Cooking can be drudgery and daily shopping impossible, but don't despair: The Harried Gourmet is here to help! In this popular course we will hone our meal preparation skills, create mouthwatering fifteen- to sixty-minute menus, and learn to execute them beautifully.
Guiding us, beginner and experienced chefs alike, will be Dave D'Aprix, Culinary Institute of America graduate, local caterer, and former Cornell Hotel School teacher. He will emphasize techniques rather than recipes and extol larders stocked with staples for making gourmet meals with little advanced planning. We'll also visit the Ithaca Farmers Market and allow ourselves to be inspired by the fresh local produce available there. Facilities and materials fee: $220.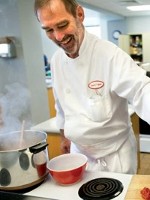 David D'Aprix
Chef extraordinaire Dave D'Aprix is a graduate of the Culinary Institute of America, a local caterer, fraternity chef, and former Cornell Hotel School teacher. He joined the CAU faculty in 2010.
Read about Dave's "Harried Gourmet" CAU summer program in... > more
Registration
Once you've registered, we'll send you materials on the academic program and other information to help you prepare for CAU. A $50 per person, per class, non-refundable deposit is required with your registration. All deposits are applied to the full program charges. Register now!
Program charges
Below are the program fees and housing choices for the on-campus summer programs. Please contact us if you have questions.
For adults staying on campus, the program fee (per adult, per week) includes the course, lodging, fifteen all-you-care-to-eat meals, banquet dinner, coffee breaks, hospitality hours, evening lectures, walks and talks, welcome and farewell receptions, conference-lot parking fees, and use of most of Cornell's campus facilities. Some courses have additional fees as noted. Wednesday dinner is on your own. Some campus facilities, such as the golf course, also charge specific user fees.
Standard room, on-campus housing, and meals
$1,970 double occupancy, $100 single supplement
Standard room, on-campus housing with exclusive bath, and meals
$2,030 double occupancy, $150 single supplement
Course fee for commuters and those staying at Hilton Homewood Suites
$1,285. This fee does not include housing or meals. If you wish to stay at Hilton Homewood Suites, please call 607.266.0000 to make a reservation in the CAU block.
Commuter meal plan option
$327. Most CAUers staying at Hilton Homewood Suites select our meal plan for the week in order to enjoy the full CAU experience. It includes six breakfasts, five lunches, and four dinners.