CAU Bike Warriors Do Le Tour des Finger Lakes
Week 3: July 17-23, 2016
The registration period for this program has passed.
Please contact us if you have any questions.
Join our e-mail list to be alerted when new course information is available (late December).
Rob Cook and COE staff members will lead strong intermediate and advanced cyclists on an extended tour of the Finger Lakes.
Our group will assemble on campus Sunday evening, and on Monday we'll warm up our cycling legs by riding the beautiful terrain in and around Ithaca. On Tuesday morning—followed by a provisions and equipment van—we will depart for a highly companionable four-day tour of up to 40 miles and a gain of up to 2,000 feet of elevation each day, probably staying in or near one well-located state park all three nights.
We will take off from this base camp for day tours to visit lakes and other parks, hike gorges, stop perhaps at the occasional winery, walk the Watkins Glen waterfront, and dine around the campfire. On Friday, we'll wend our way back to Ithaca, replete with tales of our adventures. What better way to take in the beauties of this "gorges" region of New York than from the seat of a sturdy and responsive bicycle?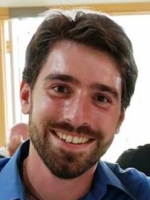 Rob Cook
Rob Cook is the coordinator of the biking and climbing programs for Cornell Outdoor Education (COE). He has also overseen COE's skiing, paddling, caving, and running programs. Prior to coming to Cornell, he worked for the Second Nature...
> more
Registration
Once you've registered, we'll send you materials on the academic program and other information to help you prepare for CAU. A $50 per person, per class, non-refundable deposit is required with your registration. All deposits are applied to the full program charges. Register now!
Program charges
Below are the program fees and housing choices for the on-campus summer programs. Please contact us if you have questions.
For those staying on campus, the program fee (per adult, per week) covers the course, lodging, sixteen meals, coffee breaks, hospitality hours, welcome and farewell parties, conference-lot parking fees, and use of most of Cornell's campus facilities. Some courses have additional fees. Wednesday supper is on your own. Some campus facilities, such as the golf course, also charge specific user fees. Weekly program rates vary with the accommodation you select:
Program fee including on-campus housing and meals
Court/Kay Hall: double occupancy per adult $1,932, single supplement $100
Room w/private bathroom: double occupancy per adult $1,990, single supplement $150
Program fee for commuters and for those staying at Hilton Homewood Suites*: $1,115
*This fee does not include housing or meals. If you wish to stay at Hilton Homewood Suites, please call 607.266.0000 to make a reservation in the CAU block.
Commuter meal plan option: $425. Most CAUers staying at Hilton Homewood Suites select our meal plan for the week in order to enjoy the full CAU experience.