Rocks and Ropes, Gunnels and Gorges
Week 2:
This program is no longer available.
Please contact us if you have any questions.
Cornell Outdoor Education (COE) boasts an extraordinary outdoor adventure program that spans the globe and includes biking, tree climbing, traversing one of the finest ropes courses in North America, and mastering the new state-of-the-art rock-climbing wall at Lindseth Climbing Center. Whatever your age, challenge yourself to a range of indoor and outdoor activities under the lively and compassionate instruction of David Moriah, former director of COE.
The group will spend ample time climbing at Lindseth, learning the ropes, and ziplining at COE's Hoffman Challenge course. We'll also rappel off Schoellkopf Stadium, bike or canoe, climb trees, and hike through a few remote and spectacular gorges. Facilities and equipment fee: $100.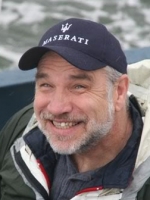 David Moriah
A pioneer in experiential training and education, Dave has over thirty years of experience in the field. The founding director of Cornell Outdoor Education and the former program director for corporate training at the Voyageur Outward Bound School, Dave has...
> more
Registration
Registration is closed for this class. Please contact CAU if you have questions.
Program charges
Below are the program fees and housing choices for the on-campus summer programs. Please contact us if you have questions.
For those staying on campus, the program fee (per adult, per week) covers the course, lodging, sixteen meals, coffee breaks, hospitality hours, welcome and farewell parties, conference-lot parking fees, and use of most of Cornell's campus facilities. Some courses have additional fees. Wednesday supper is on your own. Some campus facilities, such as the golf course, also charge specific user fees. Weekly program rates vary with the accommodation you select:
Program fee including on-campus housing and meals
Court/Kay Hall: double occupancy per adult $1,932, single supplement $100
Room w/private bathroom: double occupancy per adult $1,990, single supplement $150
Program fee for commuters and for those staying at Hilton Homewood Suites*: $1,115
*This fee does not include housing or meals. If you wish to stay at Hilton Homewood Suites, please call 607.266.0000 to make a reservation in the CAU block.
Commuter meal plan option: $425. Most CAUers staying at Hilton Homewood Suites select our meal plan for the week in order to enjoy the full CAU experience.