Drawing and Painting the Natural World
Week 3: July 22-28, 2018
The registration period for this program has passed.
Please contact us if you have any questions.
Join our e-mail list to be alerted when new course information is available (late December).
This class is for those of you who are fascinated by the natural world and would like to try (or perfect) your hand at drawing and/or painting its denizens. Liz Fuller is a scientific artist-in-residence for the Fuller Evolutionary Biology Program of the Lab of Ornithology. A gifted artist, she has illustrated many scientific papers for the lab. She is also an exceptional art teacher for Cornell biology students in the field—in Galapagos and elsewhere—who wish to record their sightings in pictures as well as words.
Whether you are a novice or experienced artist, Liz can help you bring your vision to the page—of chickadees or campanula, of frogs or ferns or fallen logs, or whatever most delights your eye.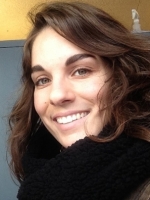 Liz Clayton Fuller
Born and raised in Nashville, Tennessee, Liz is an accomplished scientific illustrator and fine artist. She holds a BFA in illustration with a minor in art history from Savannah College of Art and Design and a certificate in natural science... > more
Registration
Once you've registered, we'll send you materials on the academic program and other information to help you prepare for CAU. A $50 per person, per class, non-refundable deposit is required with your registration. All deposits are applied to the full program charges. Register now!
Program charges
Below are the program fees and housing choices for the on-campus summer programs. Please contact us if you have questions.
For those staying on campus, the program fee (per adult, per week) covers the course, lodging, sixteen meals, coffee breaks, hospitality hours, welcome and farewell parties, conference-lot parking fees, and use of most of Cornell's campus facilities. Some courses have additional fees. Wednesday supper is on your own. Some campus facilities, such as the golf course, also charge specific user fees. Weekly program rates vary with the accommodation you select:
Program fee including on-campus housing and meals
Court/Kay Hall: double occupancy per adult $1,932, single supplement $100
Room w/private bathroom: double occupancy per adult $1,990, single supplement $150
Program fee for commuters and for those staying at Hilton Homewood Suites*: $1,115
*This fee does not include housing or meals. If you wish to stay at Hilton Homewood Suites, please call 607.266.0000 to make a reservation in the CAU block.
Commuter meal plan option: $425. Most CAUers staying at Hilton Homewood Suites select our meal plan for the week in order to enjoy the full CAU experience.