Kripalu Yoga
Week 3:
This program is no longer available.
Please contact us if you have any questions.
Kripalu yoga with Diane Fine is a warm, inviting, and accessible class that focuses on proper body alignment, breathing, and mindfulness to enhance energy, strength, flexibility, and equanimity. Diane will guide you in learning postures in considerable detail, while offering options that will allow you to make the experience work for your particular needs. In this vibrant class, you will have the freedom to choose your level of physical challenge and will learn tips on how to stay in the present moment and to flow with the challenges of life.
The class is suitable for practitioners of any level of experience: beginners, intermediate learners, and/or seasoned practitioners. Come experience the joys of yoga and potentially walk away with lifelong tools of physical and emotional enhancement.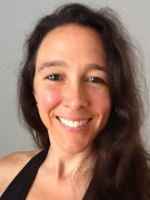 Diane Fine
Diane Fine is a natural teacher, known for her inspirational style of teaching that incorporates both the physical aspects of yoga with reminders of how to weave the joys and tools of yoga into our lives off of the mat.... > more
Registration
Registration is closed for this class. Please contact CAU if you have questions.
Program charges
Below are the program fees and housing choices for the on-campus summer programs. Please contact us if you have questions.
For those staying on campus, the program fee (per adult, per week) covers the course, lodging, sixteen meals, coffee breaks, hospitality hours, welcome and farewell parties, conference-lot parking fees, and use of most of Cornell's campus facilities. Some courses have additional fees. Wednesday supper is on your own. Some campus facilities, such as the golf course, also charge specific user fees. Weekly program rates vary with the accommodation you select:
Program fee including on-campus housing and meals
Court/Kay Hall: double occupancy per adult $1,932, single supplement $100
Room w/private bathroom: double occupancy per adult $1,990, single supplement $150
Program fee for commuters and for those staying at Hilton Homewood Suites*: $1,115
*This fee does not include housing or meals. If you wish to stay at Hilton Homewood Suites, please call 607.266.0000 to make a reservation in the CAU block.
Commuter meal plan option: $425. Most CAUers staying at Hilton Homewood Suites select our meal plan for the week in order to enjoy the full CAU experience.