The Mythical Dominion: A History of Brooklyn
Week 4: July 29-August 4, 2018
The registration period for this program has passed.
Please contact us if you have any questions.
Join our e-mail list to be alerted when new course information is available (late December).
If you grew up playing stickball on the streets of Brooklyn or simply have felt the city's pull from afar, this course is for you. Thomas Campanella, associate professor of the history of urban planning, will lead our journey through important chapters in the evolution of Brooklyn, from the impact of its Dutch settlers on Indian culture to the epic development of its industries and neighborhoods to its place as a mecca of horse racing and seaside playgrounds.
Tom will introduce us to such fascinating notables as Lady Deborah Moody and celebrate Brooklyn's big-hearted defense of religious freedom, condemnation of slavery, and embrace of waves of immigrants. Throughout, he will highlight its dreams realized and those dashed. This weeklong excavation will help us to see Brooklyn afresh, layered with memory and alive with myth and meaning.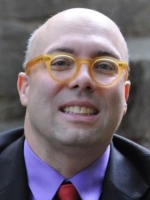 Thomas Campanella
Thomas Campanella is an associate professor and director of undergraduate studies for the Department of City and Regional Planning at Cornell. Born and raised in Brooklyn, he is a historian of city planning and the urban built environment. He teaches... > more
Registration
Once you've registered, we'll send you materials on the academic program and other information to help you prepare for CAU. A $50 per person, per class, non-refundable deposit is required with your registration. All deposits are applied to the full program charges. Register now!
Program charges
Below are the program fees and housing choices for the on-campus summer programs. Please contact us if you have questions.
For those staying on campus, the program fee (per adult, per week) covers the course, lodging, sixteen meals, coffee breaks, hospitality hours, welcome and farewell parties, conference-lot parking fees, and use of most of Cornell's campus facilities. Some courses have additional fees. Wednesday supper is on your own. Some campus facilities, such as the golf course, also charge specific user fees. Weekly program rates vary with the accommodation you select:
Program fee including on-campus housing and meals
Court/Kay Hall: double occupancy per adult $1,932, single supplement $100
Room w/private bathroom: double occupancy per adult $1,990, single supplement $150
Program fee for commuters and for those staying at Hilton Homewood Suites*: $1,115
*This fee does not include housing or meals. If you wish to stay at Hilton Homewood Suites, please call 607.266.0000 to make a reservation in the CAU block.
Commuter meal plan option: $425. Most CAUers staying at Hilton Homewood Suites select our meal plan for the week in order to enjoy the full CAU experience.