From Grape to Glass: Making Wine
Week 4: July 29-August 4, 2018
The registration period for this program has passed.
Please contact us if you have any questions.
Join our e-mail list to be alerted when new course information is available (late December).
In beautifully renovated Stocking Hall is a winemaker's treasure: a new state-of-the-art teaching winery with devices ranging from grape presses to hydrometers. In this sunlit facility, Kathy Arnink, Cornell oenologist, will lead our class in winemaking, designed for novices who wish to enrich their knowledge of wine and those who've dreamed of making their own. Get ready to roll up your sleeves and, hands on, enjoy every step of the process: pressing the grapes, analyzing juices, adding yeast, adjusting sugar and acid, mastering microbes (the good, the bad, and the ugly), and monitoring various stages of fermentation. You'll learn to clarify, stabilize, mature, and blend the wines, tasting the "fruits" of your labor at every stage. No grape stomping required.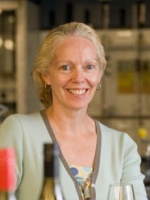 Kathleen Arnink
Kathleen Arnink is an experienced wine microbiology researcher and undergraduate educator. She teaches in the Viticulture and Enology Program in Cornell University's Department of Food Science, where she has developed courses for the new viticulture and enology major. She also... > more
Registration
Once you've registered, we'll send you materials on the academic program and other information to help you prepare for CAU. A $50 per person, per class, non-refundable deposit is required with your registration. All deposits are applied to the full program charges. Register now!
Program charges
Below are the program fees and housing choices for the on-campus summer programs. Please contact us if you have questions.
For adults staying on campus, the program fee (per adult, per week) includes the course, lodging, fifteen all-you-care-to-eat meals, banquet dinner, coffee breaks, hospitality hours, evening lectures, walks and talks, welcome and farewell receptions, conference-lot parking fees, and use of most of Cornell's campus facilities. Some courses have additional fees as noted. Wednesday dinner is on your own. Some campus facilities, such as the golf course, also charge specific user fees.
Standard room, on-campus housing, and meals
$1,970 double occupancy, $100 single supplement
Standard room, on-campus housing with exclusive bath, and meals
$2,030 double occupancy, $150 single supplement
Course fee for commuters and those staying at Hilton Homewood Suites
$1,285. This fee does not include housing or meals. If you wish to stay at Hilton Homewood Suites, please call 607.266.0000 to make a reservation in the CAU block.
Commuter meal plan option
$327. Most CAUers staying at Hilton Homewood Suites select our meal plan for the week in order to enjoy the full CAU experience. It includes six breakfasts, five lunches, and four dinners.