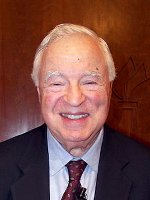 Arthur Frommer, founder of the Frommer's travel guides, attended CAU's summer program and described it as
"Exhilarating . . ."
"An eye-opening experience . . ."
and "Among competing vacations, this was one of the great values."
Later, on his radio program, The Travel Show, Frommer said, "If you have never been on a learning vacation you really owe it to yourself to try one next summer. Many people regard vacations of that sort as the most memorable in all the world of travel . . . I am already thinking of going back to Cornell for a week in the summer."
For more articles about Arthur Frommer's CAU experiences, visit Frommer's and search on "Cornell."