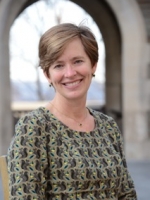 Dr. Anke Wessels

Social Entrepreneurship
Summer College 2016
Dr. Anke Wessels is the executive director of the Center for Transformative Action (CTA), an affiliate of Cornell University.
For more than 40 years, CTA has been providing fiscal sponsorship to social entrepreneurs with innovative, non-profit social ventures that address society's most pressing social problems. CTA also offers hands-on educational opportunities that animate the power of the heart and mind to remake the world.
Inspired by the non-violence of Mahatma Gandhi, Martin Luther King, Jr., Dorothy Day, Thich Nhat Hanh, and many others, Transformative Action calls for
Courage to break the silence that surrounds injustices.
Patience and compassion for the ultimately liberating work of building an inclusive movement.
Imagination to stay free from "us vs. them" strategies that only inflame our social problems.
Inspiration to envision new solutions to common challenges.
Dr. Wessels received her BA in French and economics, her MS in agricultural economics, and her PhD in geography, specializing in environmental politics and social movements. She was previously on the faculty at Syracuse University, where she taught environmental sustainability and environmental politics.
Programs