The Digital World and You
Dates: July 15-August 4, 2018 (3 weeks)
Credits: 3 credits
Eligibility: current juniors, seniors
(see
eligibility requirements
)
Overview
Digital music, web technology, robots, computer games, human-computer interaction, privacy and security in our networked world . . . These are some of the topics you'll explore in this cutting-edge program where the study of computing and information technologies intertwines with the analysis of social, historical, and ethical dimensions.
You'll spend mornings with Professor Daisy Fan from Cornell's Department of Computer Science, and with invited speakers considering computing and information science from the technical, social, cultural, economic, historical, and legal perspectives.
By means of discussions, debates, readings, writings, and films, you'll delve into computing technologies and not only learn how information is processed in diverse fields from science and engineering to arts and entertainment, but also focus on the rewards and challenges presented by the evolution and rapid adoption of computing and information technologies.
In the afternoons, you'll join Professor Fan in the lab for hands-on activities such as:
developing computer programs to explore concepts in computing and computational thinking;
exploring applications of modern artificial intelligence; and
conducting usability tests and exploring their role in design.
Finally, you'll also discover the possible majors and careers in the fields of computing and information science.
Cornell's Department of Computer Science is consistently ranked among the best computer science departments in the United States. It is part of Cornell Computing and Information Science (CIS), a faculty of related departments across multiple colleges and two Cornell campuses. Home to Nobel Prize winners and MacArthur "Genius" Fellows, CIS works to inspire the next generation of technology leaders. It recently celebrated fifty years of computer science at Cornell by moving into its new home, Bill & Melinda Gates Hall.
Course expectations
Students are expected to:
do university-level assigned reading and complete several short (one-page) writing assignments;
participate in discussion and in all class activities;
learn to write computer programs (no previous experience necessary);
participate in a formal debate and write an associated position paper;
develop a creative project of their choice—technology driven, historical or cultural analysis, etc.—and give a short presentation; and
have fun as they learn about computing and information science and experience its breadth!
Course
You'll be enrolled in the three-credit course Computation and Culture in a Digital Age (CS/INFO 1305).
This course meets Mondays through Fridays, 9:00-11:45 a.m., and Mondays through Thursdays, 1:15-4:00 p.m.
Maximum enrollment: 30
Note: You may combine this program with a three-week 1 program to create a six-week
Dual Program
.
Required textbook
| | | |
| --- | --- | --- |
| Title | Author | Cost |
| TBA | | $TBD |
Special scheduling
Events
Monday, July 16: College Admissions Workshop, 2:30-3:45 p.m.
Monday, July 23: College Fair, 4:00-6:00 p.m., Statler Hall Ballroom
Checkout dates and times
Before making travel plans, review the checkout dates and times for your program. We strictly adhere to these deadlines.
Academic director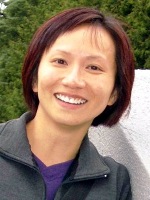 Daisy Fan
Daisy Fan is a senior lecturer in the Department of Computer Science and the recipient of the Douglas Whitney '61 Excellence in Teaching Award (2011) and the Cornell Society of Engineers Academic Achievement Award (2004) for outstanding service to students. She teaches in the areas of programming, scientific computing, and optimization.
Her book Insight Through Computing: A MATLAB Introduction to Computational Science and Engineering (with C. Van Loan) is a culmination of years of teaching programming and scientific computing using MATLAB, Java, and Lego MindStorms robotics. Her research interests include collaborative learning methodologies and technologies in engineering education, application of systems-analysis techniques for water resources and environmental problems, and development of numerically efficient optimization methods for large-scale engineering applications.
"Optimization is about finding the best way to do things under constraints, but how do we define 'best'? Can we design a medical information system that is secure yet minimizes search time? Is that best? What is the optimal schedule for releasing water from reservoirs in order to maximize hydropower production? When you walk to school, do you choose the shortest path? Everywhere I go I see interesting optimization problems. I encourage students to ask questions, find creative ways to model problems, and harness our growing computing capabilities to find optimal solutions."
Student experiences
"Professor Fan is truly amazing and always ready to teach the class. She is so jolly as well as serious when it comes to getting down to business. If students have problems, she makes sure to help them. She definitely understands where her students are coming from and is very fair." — Amisha Rana
Student blogs