Genius and Madness in Literature
Dates: July 15-August 4, 2018 (3 weeks)
Credits: 3 credits
Eligibility: current sophomores, juniors, seniors
(see
eligibility requirements
)
Overview
What is the connection between genius and madness? What explains the close association between creativity and insanity found in cultures from antiquity to the present? What pushes genius or madness beyond the pale of normalcy—and how do we define "normal"?
In Genius and Madness in Literature, you'll join others in lively discussions about these questions as we try to determine whether creativity is ingenuity, inspiration, or insanity.
During this three-week program, you'll learn advanced methods of critical thinking and literary analysis as we read from novels and medical works, poetry and philosophy, novellas and historical accounts.
Led by Anette Schwarz, an associate professor in Cornell's Department of German Studies, we'll consider canonical texts from European and American figures such as Aristotle, Plato, Johann Wolfgang von Goethe, Shakespeare, Immanuel Kant, Michel Foucault, Sigmund Freud, E.T.A. Hoffmann, Honoré de Balzac, Heinrich von Kleist, Friedrich Nietzsche, Denis Diderot, Ralph Waldo Emerson, Edgar Allan Poe, Franz Kafka, Georg Büchner, and Thomas Mann, among others.
We'll trace the history of social and artistic transgression, watch films, and discuss when and why our culture decided to call a madman a genius and a genius mad.
Morning classes will be supplemented by daily afternoon discussion sessions and writing workshops. These are designed to improve your interpretive skills and introduce you to the fundamentals of college-level writing.
Twice a week, you'll hear talks on related topics ranging from avant-garde film to Kant's philosophy of art and madness in classical music, given by guest lecturers from select humanities departments, such as comparative literature, Medieval studies, history, anthropology, art history, romance studies, German studies, music, and philosophy.
You'll also enjoy occasional field trips to the Johnson Art Museum.
Course expectations
In this class you'll read approximately twenty pages per night and write three five-page papers. The reading materials are very interesting and often fun to read!
International students: Due to the volume and complexity of the reading material, we recommend this program for students who have earned a 103 or higher on the TOEFL exam and at least a 7 on the IELTS exam.
Course
You'll be enrolled in the three-credit course Genius and Madness in Literature (GERST 2250).
This course meets Mondays through Fridays, 9:00–11:45 a.m. and 1:30–3:00 p.m.
Maximum enrollment: 40
Note: You may combine this program with a three-week 1 program to create a six-week Dual Program.
Required textbooks
Title
Author
Cost
The Sorrows of Young Werther
Johann Wolfgang von Goethe
$10.95
The Unknown Masterpiece
Honoré De Balzac
$14.95
Lenz
Georg Büchner
$14.00
The Man of the Crowd
read it online (read pages 62-74)
Edgar Allan Poe
free
These titles and materials will be available at The Cornell Store.
Special scheduling
Events
Monday, July 16: College Admissions Workshop, 2:30–3:45 p.m.
Monday, July 23: College Fair, 4:00–6:00 p.m., Statler Hall Ballroom
Checkout dates and times
Before making travel plans, review the checkout dates and times for your program. We strictly adhere to these deadlines.
Program director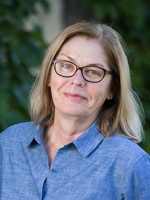 Anette Schwarz
Anette Schwarz is an associate professor in Cornell's Department of German Studies. Before coming to Cornell in 1997, she taught at Yale University, where she received a prestigious award for interdisciplinary teaching and curriculum development. Her research focuses on the relationship between emotions and literature, and she has published on the history of melancholia and the uncanny and is currently working on a book about philosophies of the tragic. All of her teaching is interdisciplinary in nature, and she enjoys reading German literature in the wider context of other European literatures.
"I have always thought of teaching as a great learning experience: my ideal is to create an atmosphere of lively discussions, thought-provoking questions, and not-so-easy answers. I truly enjoy the manifold interpretations a literary text affords when wonderful students discover the art of reading and unveil the hidden meanings of a work of art. I love to share the excitement of sudden realizations: when together we make connections between ideas that stem from different centuries; when together we make connections between different disciplines (such as medicine and literature); when together we notice when a piece of literature breaks with its culture and starts a new tradition. For me, a teacher is like a detective who with the help of the students follows clues and signs in order to decipher the mysterious world of literature. All we need is curiosity, attention to details, and enthusiasm."
Student experiences
"My professor was very lively and appreciated everything we contributed to the discussions every day. She chose readings that were interesting and gave us writing prompts that were very helpful." — Hannah Bireschi, 2016
"My professor was one of the most amazing and intelligent people I have every met. I am a much better person for knowing her." — Anne Smith, 2016
"I had an absolutely wonderful professor and could not have asked for anyone better. Professor Anette Schwarz always had a comment or point of view that you would never even think of on everything that we discussed. She was always helpful and willing to take all of our opinions under consideration during our course." — Anna Kurianowicz, 2016
"This course really helped me to analyze text materials from a different perspective. Class discussions were really helpful, and everyone's ideas were amazing. " — Lan An, 2015
"I would recommend this course to someone who shares my interests because the material delves into subjects of all kinds. Whether one is fascinated by psychology or music, there is a piece of literature to pique their curiosity." — Kathryn Thomas, 2015
"Professor Annette Schwarz's energy and enthusiasm really motivated me to want to understand and continue to improve. My TA, Johannes Wankhammer was a welcoming, interactive, and supportive advisor. His insights and encouragements to develop our own ideas truly helped me and my peers grow as intellectuals and young adults." — Jelilat Odubayo, 2015
"I gained so much from Summer College: college class experience, improved study and work habits, insight into what I may decide to major in when I attend college, and lifelong friends. I liked that the afternoon section had a variety of guest lectures from other professors in different departments. I also enjoyed the Writing Workshop section because it helped me improve my essay-writing." — Elizabeth Young
"(Prof.) Schwarz was fabulous. She subtly guided our class discussions to the main ideas that the authors we were reading had tried to prove. The TA was outstanding (and) greatly improved my writing skills. The program was incredible." — Walker Mimms
Student blogs