Animal Science: Sustainable Animal Husbandry
Dates: June 23-July 14, 2018 (3 weeks)
Credits: 3 credits
Eligibility: current sophomores, juniors, seniors
(see
eligibility requirements
)
Overview
Taught by Dr. Melanie Soberon, this program will help you gain insights into sustainable animal husbandry and acquire first-hand experience in animal science. You will:
learn about the complex relationships between domestic animals and humans;
examine the scope, diversity, and problems related to domestic animal systems;
observe farm management and, in many cases, practice animal handling techniques with various species, including horses, sheep, goats, dairy and beef cattle, and pigs;
tour a variety of animal farms, a Cornell lab animal research unit, the Cornell equine research park, and more;
explore disciplines such as genetics, nutrition, reproduction, grazing, toxicology, and different production and management systems; and
meet members of the animal science faculty.
Part of Cornell's acclaimed College of Agriculture and Life Sciences, the Department of Animal Science has a long and storied history of linking basic and applied research for the benefit of animals and people. This program will help you increase your understanding of the biology and management of domestic animals and will get you thinking about the local and global issues facing animal industries.
Course expectations
Students are expected to
give an oral presentation,
participate in a class debate,
take two written exams,
assess a controversial issue in agriculture using scientific journal articles, and
write a two-page paper on that assessment.
Students will be assigned one to two chapters of reading for most class periods during the first two weeks of class. They will also be expected to check the course website on Blackboard for current news articles relating to each day's lecture, as well as course announcements and assignments.
Course
You'll be enrolled in the three-credit course Sustainable Animal Husbandry (ANSC 1120).

This course meets Mondays through Fridays, 9:30–11:30 a.m. with labs Tuesdays through Thursdays, 1:30–4:30 p.m.
Note: You may combine this program with Equine Practice, Conservation Medicine, or any other three-week 2 program to create a six-week Dual Program.
Maximum enrollment: 30
Required textbook
| | | |
| --- | --- | --- |
| Title | Author | Cost |
| Sustainable Animal Agriculture | Ermias Kebreab (Editor) | $197.95 |
Special scheduling
Events
Wednesday, July 4: In observance of Independence Day, we will not have classes.
Monday, July 9: College Admissions Workshop, 2:30–3:45 p.m.
Checkout dates and times
Before making travel plans, review the checkout dates and times for your program. We strictly adhere to these deadlines.
Program director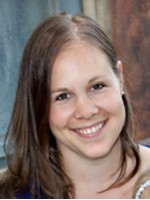 Melanie Soberon
Dr. Melanie Soberon's agricultural journey began on a family farm in the Midwest. Her combined interests in animals and education led her to a dual major in animal sciences and life science communications from the University of Wisconsin–Madison.
After completing her undergraduate work, Dr. Soberon came to Cornell to earn her MS in animal science, focusing on the nutrition of highly productive sheep. She later earned a PhD in animal science at Cornell, with a focus on ruminant nutrition. For her postdoctoral work, she wrote and published scientific journal articles on the topic of sustainable nutrient management on Northeastern dairy farms.
Dr. Soberon has taught or assisted in teaching a number of Cornell undergraduate courses and has been recognized as an outstanding teaching assistant at Cornell. She has also been named an Emerging Young Scientist by the American Forage and Grassland Council and was awarded a Future Faculty Teaching Certificate Fellowship by the Cornell University Center for Teaching Excellence. She enjoys every opportunity to educate the general public about current agricultural practices, and speaks regularly on the topic.
"It is an awesome responsibility to lead a classroom of individuals in a journey of knowledge. I strive to leave each student with some new perspectives on animal science and agriculture as well as increased confidence in their own understanding of animal science."
Student experiences
"The professor and TA were both very passionate on the topics they taught, and that influenced me to be more engaged in the class. I loved the guest lecturers and the topics they spoke on. It was exciting to have my perspective widened about what's going on in the animal science community. I would recommend this program in a heartbeat." — Rachel Herschman
"I learned a lot in this course, and it provided me with unique experiences in my field. With this knowledge, which was very different from what I would learn in a high school course, I feel more secure about my career aspirations. I also had a lot of fun. I made many friends and created many good memories here." — Luana Tone
"I loved everything about this class! The professor was absolutely amazing, and the material was presented in a clear, concise manner, in a way I understood. I was also excited to earn college credits at Cornell, my dream school. "
"This made me really want to attend Cornell for vet school and undergrad. I learned so much I didn't know about caring for domesticated animals in a sustainable way." — Isabelle McMullen, 2016
"The Summer College experience threw me head-first into college life, and I loved it. I was able to learn about a topic I love in an ambitious and academically challenging environment." — Perri Gish, 2016
"My professor, Dr. Soberon, was an absolute delight. She was very knowledgeable, kind, understanding, and overwhelmingly supportive throughout the entire course. She was also a huge factor in my transformation to a more critical thinker and positively revitalized my ideas on animal rights." — Isabel Oberlender, 2015
"I gained knowledge about animal science, friends of all ages that I will keep forever, confidence to dive head-first into college life, and one of the best experiences of my life. After succeeding at Cornell, I feel like I can take any course and succeed in it." — Eliza Stucker
"I would recommend this to as many people as possible. The hands-on experiences were incredible and I got to learn a lot about the subjects that interest me as well as what other options there are to study." — 2013 Student
Student blogs