Introduction to Architecture
Overview
If you're contemplating a career in architecture, or if you'd simply like to indulge your passion for it, then this intensive program is for you.
Led by professors from Cornell's College of Architecture, Art, and Planning (AAP), whose undergraduate architecture program is ranked number one in the nation, you'll spend the mornings exploring architectural principles such as:
Composition
History
Preservation
Landscape architecture
Planning
Urban design
In addition, you'll delve into the nuts and bolts of architecture, including:
Building construction
Structures
Acoustics
Lighting
Energy conservation
Sustainability
Class discussions will include cultural, social, and political factors that influence architecture.
You'll spend afternoons, late evenings, and some weekend hours in AAP's new architecture studio, the Rem Koolhaas-designed Milstein Hall, where you'll put into practice what you learn in the mornings.
Tackling a major design problem is the core of this part of the program. A series of short design-studio problems, intensive individual instruction, and regular progress reviews will help you prepare for the presentation of your final project. You'll be able to add your final project, as well as a wealth of architectural drawings and models, to your portfolio.
A weekly workshop will introduce students to selected analog and digital design tools used in exploring and representing works of architecture. You'll also enjoy the rare opportunity to use Cornell's Fine Arts Library, one of the oldest and most extensive architectural libraries in the world, and the chance to draw on the extraordinary resources of our distinguished university community. Faculty members and graduate teaching assistants in the Department of Architecture will work closely with you throughout the six weeks. There is one instructor for every ten to twelve students in the design studio.
Students successfully completing the program receive, in addition to a certificate, a total of six credits for Architecture 1110 and 1300, a letter grade for each course, and a written evaluation from their instructor. The use of the summer courses to partially or wholly fulfill basic design requirements is solely at the discretion of the institution that admits you as a degree candidate. In most cases, students receive transcript credits for the courses.
These rigorous six-week classes are open to both high school and college students and require no specialized knowledge or background, just a serious interest in design. Students need to come prepared to be challenged and live the life of a busy architect perfecting their craft (projects). College students must register for Architecture 1110 and 1300 through Cornell University Summer Sessions.
The cost of supplies for this program is about $350 (including $205 for the Supply Kit.) This expense is in addition to the cost of the program.
Courses
You'll be enrolled in:
Introduction to Architecture: Design Studio (ARCH 1110)

This class meets Mondays through Fridays from 1:30-5:00 p.m.

Introduction to Architecture: Lectures (ARCH 1300)

This class meets Mondays through Fridays from 9:00 a.m.-12:00 p.m.
Required materials
| | | |
| --- | --- | --- |
| Title | Author | Cost |
| Supply Kit | | $185 |
The Supply kit will be available at The Cornell Store.
Special scheduling
Events
Friday, July 3: In observance of Independence Day, no classes
Mondays, July 6 or 13: College Admissions Workshop, 2:30–3:45 p.m.
Monday, July 20: College Fair, 4:00-6:00 p.m.
Saturday, August 1: Final show and reception in the Milstein Dome, 10:00 a.m.–12:00 p.m.
Checkout dates and times
Before making travel plans, review the checkout dates and times for your program. We strictly adhere to these deadlines.
Program director
Henry Richardson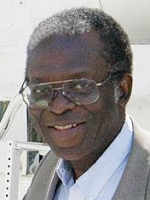 Henry Richardson is an award-winning professor of architecture in the College of Architecture, Art, and Planning as well as a licensed architect, a nationally certified city and regional planner, and an international consultant. He currently serves as a faculty fellow on Cornell's North Campus.
"Most people live in architecture. For me, architecture is more than a lifestyle; it is a passion, and I live it. To actively live architecture is to dare to imagine worlds beyond the norm and to find ways of translating them into concrete, palpable form. In the words of Einstein, 'If you can imagine it, you can create it.' Moving continuously between the thresholds of imagination and creation, between the virtual and the real, is what living architecture is all about. I teach it, I research it in the Cornell CAVE (Computer-assisted Virtual Environment), and I practice it."
Student experiences
The following students have attended this program. Read about their experiences!
Quotes and reviews
"The course took architecture beyond the literal meaning . . . I will never look at the world the same again." — Dominic Petrello
"Our teaching assistant and head professor challenged us to produce our best works. Professor Henry (Richardson) opened our eyes to view the world in an entirely new way through his intellectual lectures and guest speakers." — Andrew T. Nguyen
"I learned so much about architecture and space, and the demanding course taught me a totally new way of looking at buildings. Working long hours in the studio is an experience I will never forget. In the studio, strong friendships were made and there were so many hands-on things that I learned. I have taken away so much from attending Summer College." — Betty Huang