Freedom and Justice in the Western Tradition
Dates: June 23-July 14, 2018 (3 weeks)
Credits: 4 credits
Eligibility: current sophomores, juniors, seniors
(see
eligibility requirements
)
Overview
Concern with freedom and justice has deep roots in the Western tradition. The foundations of contemporary ideas about these concepts have their origins in antiquity, the Judeo-Christian tradition, and early modern notions of right and wrong, and of a just order.
This program, for students interested in politics, government, the history of ideas, and law, will introduce you to the rich intellectual heritage, especially related to the ideals of freedom and justice, on which the modern legal and political systems are based.
Under the leadership of Alexander Moon, a visiting assistant professor with a doctorate in government from Cornell, you will explore readings from the "Great Books" of Western social thought: Plato, the Old and New Testaments, St. Augustine, St. Thomas Aquinas, Locke, Burke, Wollstonecraft, J. S. Mill, Marx, and M. L. King, Jr.
The afternoon seminars will supplement the morning's intellectual and philosophical inquiry. You'll meet with a variety of guest speakers who will talk about political life or the role of the books we're reading in a liberal arts education. Also, twice each week you'll participate in afternoon writing workshops.
This program was featured on the Huffington Post as one of "The 12 Best Pre-College Summer Programs." The article quoted former student (and now Cornell undergrad) Annie Leiman, who said that one of her favorite parts of the experience was having the opportunity to get acquainted with a Cornell professor. "As a current Cornell student, I definitely felt more prepared coming here because of the program!"
Course expectations
Students are expected to:
read 40 pages a night,
write and revise (several times) an essay on the course material,
engage in the exciting exploration of the world of ideas, and
learn to intelligently articulate their own conceptions of "freedom" and "justice."
Course
You'll be enrolled in the four-credit course Introduction to Political Philosophy (GOVT 1615).
This course meets Mondays through Fridays, 10:30 a.m.–12:15 p.m., and Mondays through Fridays, 1:15–2:30 p.m. and Mondays through Thursdays 3:00–4:45 p.m.
Maximum enrollment: 75
Note: You may combine this program with a three-week 2 program to create a six-week Dual Program.
Required textbooks
| | | |
| --- | --- | --- |
| Title | Author | Cost |
| The Republic | Hackett edition, tr. G.M.A. Grube, revised by C.D.C. Reeves | $TBD |
| Course Packet | | $TBD |
These titles and materials will be available at The Cornell Store.
Special scheduling
Events
Wednesday, July 4: In observance of Independence Day, we will not have classes.
Monday, July 9: College Admissions Workshop, 2:30–3:45 p.m.
Checkout dates and times
Before making travel plans, review the checkout dates and times for your program. We strictly adhere to these deadlines.
Program director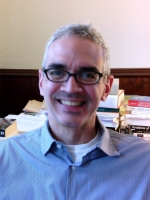 Alexander Moon
Alexander Moon has taught political theory, constitutional law, and U.S. politics at Ithaca College for 18 years. He specializes in contemporary liberal political theory, social theory, epistemology, and meta-ethics.
Moon received a bachelor's degree from Yale University in 1986, a master's from Cornell University in 1995, and a PhD from Cornell in 2005. At Cornell he studied with, and was a teaching assistant for, award-winning professor Isaac Kramnick, the founder of the Freedom and Justice program. Between college and graduate school, Moon served New York City's Department of Corrections as a policy analyst and operations researcher.
Moon is currently at work on a book-length project about the civic responsibility people have to think about, research, and debate political questions.
Student experiences
"The course went by super fast, and I definitely didn't want to go home on the last day. Summer College is a great opportunity to meet new people and interact with faculty who share your passions. I had a fantastic time, and I am so glad to have met so many new people who will remain my friends when I return home." — Hazen Enman, 2016
"I am from another continent, and the idea of coming to America and studying among people from other cultures was as intimidating as it was exciting. Happily, I have felt welcomed and enlightened by everyone around me. Knowledge hasn't been limited to the professors; every student has something to teach, if you're willing to learn." — Simran Jain, 2016
Student blogs