The Fashion Studio: Portfolio Development
Dates: July 15-August 4, 2018 (3 weeks)
Credits: 3 credits
Eligibility: current sophomores, juniors, seniors
(see
eligibility requirements
)
Overview
This interactive studio program offers you a rare opportunity to develop your fashion design skills, deepen your knowledge of cutting-edge fashion tools and trends, and build a design portfolio.
In this course, led by fashion educator Kelsie Doty, you'll focus on two-dimensional fashion communication techniques. Specifically, you will spend most of your time working with Adobe Photoshop and Illustrator, as well as sketching by hand. You'll learn and develop two-dimensional skills in a fast-paced, university-level environment.
Through hands-on projects, lectures, discussions, guest lecturers, and critiques, you'll
explore basic fashion design concepts, processes, and trend research;
use conventional and digital techniques to develop and present your ideas; and
utilize Cornell's renowned resources and technologies, including a laser cutter and 3D body scanner.
During the first week, you'll explore the use of conventional and digital materials through a series of projects aimed at introducing design concepts. You'll also learn about fashion trend resources, conducting research for your designs, and the basics of Photoshop for fashion design.
In the second week, you'll have the opportunity to scan your body using Cornell's body scanner and laser cutter to better understand the use of technology in the apparel industry. In the interest of building on inspiration for your designs, you will also work with objects from the Cornell Costume and Textile Collection and the Herbert F. Johnson Museum of Art on Cornell's campus.
The third week will be devoted to honing your design and presentation skills and thinking about how clothing translates from the two-dimensional page to the three-dimensional form. Finally, you'll assemble your portfolio work and display it in the department's Jill Stuart Gallery.
Cornell's Department of Fiber Science and Apparel Design (FSAD) is the only department of its kind in the Ivy League. It's dedicated to exploring
the art of designing clothing and accessories,
the business of manufacturing and marketing apparel internationally, and
the history and science of fibers and textiles.
Through its research and outreach, FSAD also works to improve the fashion design field, create new materials, enhance people's health, boost the economy, and better protect the environment.
Note: There is no sewing in the course.
Cornell Fashion Collective: 33rd Annual Runway Show
Course expectations
Students are expected to do university-level assigned readings.
Students are expected to do substantial research and source-collecting and to fill an entire sketchbook with ideas.
As in any university course, the bulk of this work will be done outside of class. There will be periodic informal work checks.
Hands-on projects and in-class critiques are important components of this course. We will go over what it takes to carry out a successful and productive critique. Students are expected to engage in their own critiques and those of their peers in a mature and professional manner.
As in any university course, deadlines are very tight and condensed towards the end of the course. Students will need to work ahead and manage their time well. Generally speaking, this rapid pace is characteristic of the fashion industry.
Course
You'll be enrolled in the three-credit course Fashion Design and Visual Thinking (FSAD 1120).
This course meets Mondays through Thursdays, 9:00 a.m.–5:00 p.m.
Maximum enrollment: 30
Note: You may combine this program with the Design Immersion program or any other three-week 1 program to create a six-week Dual Program.
Materials
The instructor will provide a list of supplies and students will need to find a professional printing service for their final portfolios. The total cost of these materials and services is approximately $100. This expense is in addition to the cost of the program. There is no textbook to purchase for this course. Depending on the nature of individual projects, students should anticipate incurring additional expenses for art supplies, printing, and related materials.
Students should bring a camera, or a high quality cell phone camera, with the ability to download photos to a computer as well as at least a 16 MB USB flash drive.
Special scheduling
Events
Monday, July 16: College Admissions Workshop, 2:30–3:45 p.m.
Monday, July 23: College Fair, 4:00–6:00 p.m., Statler Hall Ballroom
Friday, August 3: Fashion Show and Graduation Ceremony, 2:00 p.m. in the Jill Stuart Gallery, Human Ecology building
Graduation
Students and their families are cordially invited to our fashion show and graduation ceremony on Friday, August 3, from 2:00 to 4:30 p.m. Students will display their work and host a runway show of their final design challenge. Students will also each receive a Cornell University Summer College certificate and be able to take farewell photos with their friends and faculty. Note that attendance is not required, but is highly recommended and is a nice way to conclude the program. Dress is smart casual.
Checkout dates and times
Before making travel plans, review the checkout dates and times for your program. We strictly adhere to these deadlines.
Program director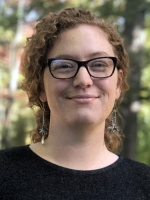 Kelsie Doty
Kelsie Doty is a PhD student in fiber science and apparel design at Cornell University, where she is currently researching sustainability in the fashion industry. Doty has seven years of teaching and research experience and has spent time as an adjunct instructor teaching pattern drafting, technical design, Adobe Creative Suite, and advanced sewing. As an instructor she focuses on building students' creative voices while encouraging strategic teamwork within the learning environment.
As a researcher, Doty spends time looking at the performance of natural dyes on textiles, the work of natural dyers, and the ways that sustainability can become a viable option in the apparel industry. Doty has published several papers on her work and has presented at numerous conferences across the U.S. In tandem with her qualitative research into the use of natural dyes, she is also working on a documentary film about natural dye artists and the use of natural dyes in the industry.
"My goal as a teacher is to have a supportive space for students to be creative, while still holding them to a high standard for academic rigor. By providing a clear connection from classroom content to jobs in the fashion industry, it is my hope that students graduate with the highest possible amount of professional and personal gratification."
Student experiences
"My professor was absolutely amazing. She taught me so many aspects of fashion that I didn't know existed. She incorporated smarts with creativity and exposed me to so many options and information. She's a remarkably intelligent women who is extremely successful." — Danielle Harris, 2016
"I gained a deep understanding of the beautiful complexities of the fashion industry. I learned not only sketching and designing skills but also business and research skills necessary to thrive in the industry. In addition, I met many students with similar interests and gained an outstanding college experience. " — Livia Caligor, 2016
"I was able to learn about everything from sustainability in fashion to what trends are influenced by social movements. The teacher's energy and humor made the classroom atmosphere comfortable but focused."
Student blogs