How to Win an Argument: An Introduction to Debate and Rhetoric
Dates: June 23-July 14, 2018 (3 weeks)
Credits: 3 credits
Eligibility: current sophomores, juniors, seniors
(see
eligibility requirements
)
Overview
Want to learn how to make convincing arguments? Want to sharpen your critical thinking skills, compete on a debate team, or just conquer your fear of public speaking? Then this program is for you.
Guided by Sam Nelson, director of one of the world's top-ranked debate programs, you'll explore and apply the principles of argumentation and debate as you learn how to:
conduct database research,
synthesize data,
analyze the quality of evidence,
refute counter claims,
identify logical fallacies,
evaluate risks,
frame issues, and
tell coherent stories.
You'll also participate in an in-house tournament aimed at helping you practice your skills. Past debate topics have included issues ranging from genetically modified crops to prisons and punishment.
This intense program will prepare you to work with a great range of opinion and evidence and to consider questions from varied viewpoints, including those of different cultures. Any and all assumptions may be challenged!
Note: Based on past programs, all students will benefit from this course and are encouraged to attend, including students who are interested in improving their English language skills.
In the news
Summer College alumni found youth-run global consulting agency, Bloomberg Businessweek, November 30, 2016
Watch the Cornell Forensics Society in action
Course expectations
Students are expected to:
distinguish between persuasive and unpersuasive arguments;
seek to understand and evaluate arguments, whether or not they agree with them;
engage in discussions while in class—class participation is necessary and encouraged;
make a conscious effort to speak in public, even if they are afraid; and
respect and appreciate the opinions of others.
Course
You'll be enrolled in the three-credit course Argumentation and Debate (ILRLR 2300).
This course meets Mondays through Fridays, 12:30–3:15 p.m.
Maximum enrollment: 50 per session
Note: This program is offered twice during the summer. You may select either the Three-week session 1 (June 23–July 14) or the Three-week session 2 (July 15–August 4) offering. The programs are identical although the instructors are different.
Whichever option you choose, you may combine this program with another three-week program to create a six-week Dual Program.
Required textbook
| | | |
| --- | --- | --- |
| Title | Author | Cost |
| Argumentation: Understanding and Shaping Arguments | Herrick | $TBD |
This title will be available at The Cornell Store.
Special scheduling
Events
Wednesday, July 4: In observance of Independence Day, we will not have classes.
Monday, July 9: College Admissions Workshop, 2:30–3:45 p.m.
Saturday, July 14: Graduation ceremony: 11:00 a.m.–noon
Graduation
Students and their families are cordially invited to an informal graduation on Saturday, July 14 from 11:00 a.m. to noon. Students will each receive a Cornell University Summer College certificate and be able to take farewell photos with their friends and faculty. Note that attendance is not required, but is highly recommended and is a nice way to conclude the program. Dress is smart casual.
Checkout dates and times
Before making travel plans, review the checkout dates and times for your program. We strictly adhere to these deadlines.
Program director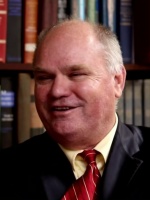 Sam Nelson
An internationally recognized lecturer in Cornell's School of Industrial and Labor Relations, Sam Nelson has taught courses in argumentation and debate around the world for more than twenty-five years. He is the director of the Cornell Forensics Society, which has been ranked as the number-one debate program in the world by the International Debate Education Association.
Read Sam Nelson's CNN article The enduring myth of TV presidential debates.
"Over my many years of teaching, I have had the unique opportunity to watch hundreds of students grow, both in their ability to debate and in their intellect. Teaching is what allows me to help students to engage and challenge the world around them—something I believe is always worthwhile." —Sam Nelson
Student experiences
"This was easily one of the best experiences of my life. I gained a broader way of thinking, since my class pushed us to question our assumptions. I also gained some college-life experience in a very independent environment and many good friends, who I can now go to for help and advice." — Joceline Perez, 2016
"Sam Nelson is probably one of my favorite teachers ever. He throws little jokes in between certain statements which makes the students feel comfortable in class. I would absolutely take another class with him if I could." — Marina Grais, 2016
"My professor was amazing! Always full of energy and ready to teach. You could see his passion for the subject, and it just made you want to stay longer in the classroom, hearing him talk and teach. "
"All the new things I learned during this class not only helped me improve my debating skills but also taught me how to communicate with other people during everyday life. Thank you for teaching me so much about debate. And also thanks to Corben and Austin, who gave me invaluable advice during debates. " — Liao Qitian, 2015
Student blogs