Shakespeare on Stage
Dates: July 15-August 4, 2018 (3 weeks)
Credits: 3 credits
Eligibility: current sophomores, juniors, seniors
(see
eligibility requirements
)
Overview
As columnist Stephen Marche argues, William Shakespeare changed everything. For starters, Shakespeare coined hundreds of new words, such as swagger, scuffle, and fashionable. He invented new names, such as Jessica, Shylock's daughter in The Merchant of Venice. He raised questions about race and prejudice in plays such as Othello. And with Julius Caesar, which John Wilkes Booth saw just the month before he assassinated Abraham Lincoln, he changed the course of American history.
In this program, led by award-winning professor Bruce Levitt, you'll explore how clues to the acting and staging of Shakespeare's plays are embedded in the texts themselves. Understanding these hidden directions through a close reading of the texts can deepen your understanding—and enjoyment—of these influential works of art. Along the way, you'll also develop and improve the critical thinking and writing skills so essential for college success.
Looking at Macbeth, Romeo and Juliet, Richard III, Measure for Measure, Love's Labour's Lost, King Lear, Hamlet, and The Merchant of Venice, you'll analyze the transformation of two-dimensional scripts into three-dimensional productions. You'll see what the script tells the director about the characters and action of the play, information that may not have been obvious at first read.
You'll consider various traditional and modern approaches to these plays and examine how the texts reflect their social, political, and literary inspirations. And you'll investigate Shakespeare's ability to express the deepest and most complex feelings and human concerns: the individual's place in the universe, in relation to others, and in relation to the socio-political system that he or she inhabits.
Through readings, papers, video excerpts, and in-class explorations of selected plays, you'll gain an understanding of how the texts themselves are blueprints for productions.
You'll explore such questions as:
How are clues to production embedded in Shakespeare's plays?
How does Shakespeare's language give hints about the characters and how they should be portrayed?
What elements in the text can be used to help visualize the play and assist in decisions about setting and costumes?
What clues can be found in the texts that lead to decisions about the tempo and rhythm of the play?
How do collaborations among stage directors, designers, and actors lead to differing interpretations of the plays?
Other topics that you'll address are the complexity of characters' motivation, subtext, and the changing assumptions that audience members and readers bring to plays over time and which also influence our interpretation of these plays.
In this program, you'll acquire the technical vocabulary necessary for understanding Shakespeare's plays, and you'll deploy that vocabulary in written critical analyses. As your critical thinking and writing skills develop, so will your enjoyment of Shakespearean drama.
In fact, you may have the opportunity to put that to the test by watching a performance by the Ithaca Shakespeare Company—and you can visit the Cornell library, which holds rare 17th-century folio editions of Shakespeare's plays as well as the 1866 copy of Hamlet owned by Edwin Booth, brother of John Wilkes Booth.
No previous acting or theater participation is necessary.
Course expectations
Students are expected to:
attend all classes,
complete daily assignments,
participate in class discussions, and
present projects and write papers as assigned.
International students: Due to the volume and complexity of the reading material, we recommend this program for students who have earned a 103 or higher on the TOEFL exam and at least a 7 on the IELTS exam.
Course
You'll be enrolled in the three-credit course Shakespeare on Stage (PMA 2682).
This course meets Mondays through Fridays, 10:00 a.m.–12:30 p.m.
Maximum enrollment: 20
Note: You may combine this program with Debate and Rhetoric I or any other three-week 1 program to create a six-week Dual Program.
Required textbook
| | | |
| --- | --- | --- |
| Title | Author | Cost |
| King Lear (Pelican) | William Shakespeare | $9.00 |
| Richard III (w/gold & white cover)(Ed. Eccles, new rev.) | William Shakespeare | $5.95 |
| Measure for Measure | William Shakespeare | $5.95 |
| Love's Labor's Lost (Newly revised ed.) | William Shakespeare | $5.95 |
| Shakespeare's Stagecraft | J. L. Styan | $62.00 |
| Macbeth (Folger) | William Shakespeare | $5.99 |
| Romeo and Juliet (New Folger) | William Shakespeare | $5.99 |
| Hamlet | William Shakespeare | $9.95 |
These titles will be available at The Cornell Store.
Special scheduling
Events
Monday, July 16: College Admissions Workshop, 2:30–3:45 p.m.
Monday, July 23: College Fair, 4:00–6:00 p.m., Statler Hall Ballroom
Checkout dates and times
Before making travel plans, review the checkout dates and times for your program. We strictly adhere to these deadlines.
Program director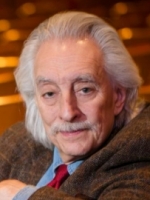 Bruce Levitt
Bruce Levitt has been a professor in Cornell University's Department of Performing and Media Arts (formerly the Department of Theatre, Film, and Dance) since 1986. He teaches acting, text analysis, solo performance, and directing. He served as chair of the department from 1986 to l995, during which time he oversaw the final phases of construction of the Schwartz Center for the Performing Arts and, together with the faculty and staff, restructured the academic and productions programs of the department.
Levitt has had a distinguished career as a freelance director in New York and regionally and has been involved with the development of dozens of new plays in the United States, Canada, and Europe. His credits include Cornell productions of The Cherry Orchard, The Glass Menagerie, Strider, A Lie of the Mind, Equus, The Three Sisters, Cocoanuts, Beat Box Bard, Hamlet, and the American premier of David Edgar's The Strange Case of Dr. Jekyll and Mr. Hyde.
Levitt is a former chair of the New York State Council on the Arts Theatre Panel. From 1995 to 2001 he served as the producing artistic director of The Heart of America Shakespeare Festival in Kansas City, where he directed productions of Romeo and Juliet, Richard III, Love's Labour's Lost, Macbeth, King Lear, and Measure for Measure, which won the 1999 Kansas City Drama Desk Award for best direction. Levitt was awarded Cornell's Engaged Scholar Prize, which recognizes a faculty member who inspires others with innovative integration of teaching, learning, and research (read more).
"Teaching is not simply the imparting of knowledge that one has to another who inquires, but rather a collaboration between student and teacher. The inquisitive mind of the student prompts responses from the teacher and new knowledge is formed because how the student will use what is acquired is unknown. Too, how the teacher will respond to the same quest for knowledge by others in the future is often transformed by each encounter with a student. It is, therefore, what happens in the space 'between' teacher and student that the energy and excitement of learning takes place. It is a continuous journey that enlivens both participants."
Student experiences
"The aspect of this class that I valued most was attention to detail. We read and studied a number of Shakespeare's plays and pulled out important details that would change how the play is performed. " — Jared Mendiola, 2016