Transmedia: Image Sound Motion
Dates: July 15-August 4, 2018 (3 weeks)
Credits: 3 credits
Eligibility: current sophomores, juniors, seniors
(see
eligibility requirements
)
Overview
(View more Transmedia student videos.)
Transmedia is an emerging discipline that encompasses time-based and digital art forms, including art video, computer art, cinema, and art photography. In this program—which can serve as a follow-up to Art as Experience or can be taken alone—you'll work with cameras, audio recorders, physical computing boards, and computer software as you learn how to create and manipulate digital art.
Led by program director Mark Edward Grimm, you'll spend the first week focusing on macro photography. (See exciting examples of this art form on the websites of photographers David Gilliver, Vyacheslav Mishchenko, and Pyanek.) You'll build a macro lens for your camera, create photographs with it, and experiment with stop-animation techniques—recording single images and then stringing them together to create an image sequence. You'll create macro video at normal and slow speeds and then edit the videos into short pieces.
In weeks two and three, you'll record a short series of videos based on a given topic, and then edit these videos into a video sample library. You'll learn how to program the computer to interact with video and audio sample libraries. After using the invention kit Makey Makey to build buttons and controllers for the computer, you'll assemble your images, video, and audio to create an interactive audiovisual media artwork.
When the class convenes each morning, you'll discuss the assigned reading and your journal entries before receiving the day's assignment. Technical, historical, and theoretical material will be provided to give you a strong foundation in this field, and you'll also have the opportunity to meet media artists who can help you understand the creative possibilities of the techniques you're learning.
As you work to master each new concept and the skills needed to create images, sound, and motion-based media, you'll have the full support of your faculty mentor. At the end of each day, the class will gather to discuss work, techniques, problems, and solutions. Learning will be fun, challenging, and exciting and will open you to new possibilities for creating dynamic media art.
For additional examples of artists to be discussed, see Nam June Paik, DangerMouse, and Cuppetelli and Mendoza.
Course expectations
Students will come prepared for unhindered experimentation and with a mind open to new ideas, concepts, and techniques.
Students will embrace the opportunity to explore the role of digital media in the creation and experience of art and design.
Students will demonstrate growing awareness of concepts of media-based art and design.
Students will experiment with multiple methods for creative processes, collaboration, research, and critique.
Students will develop critical skills and use a rich vocabulary of formal and critical terms.
Students will achieve technical competence in video and audio recording and editing and in media interaction.
Students will complete at least one self-directed, interactive project about a subject of the student's choice.
Course
You'll be enrolled in the three-credit course Art as Experience II: TransMedia (ART 1102).
This course meets Mondays through Fridays, 9:00 a.m.–12:00 p.m. and 1:30–4:00 p.m.
Maximum enrollment: 16
Note: You may combine this program with Art as Experience or any other three-week 1 program to create a six-week Dual Program.
Required textbooks and materials
| | | |
| --- | --- | --- |
| Title | Author | Cost |
| Makey Makey: Invention Kit | | $49.95 |
| The Medium is the Message | Marshall McLuhan | $13.95 |
| Two flash drives, 64 or 32 gig | | |
| Pocket-sized moleskin notebook | | |
| Smartphone with digital camera/video capabilities or a digital camera/video camera | | |
These titles and materials will be available at The Cornell Store.
Optional materials
Smartphone/camera mount, selfie stick, stabilizer
External microphone to interface with camera, such as stereo microphone, condenser
Reverse mounting adapter
Special scheduling
Events
Monday, July 16: College Admissions Workshop, 2:30–3:45 p.m.
Monday, July 23: College Fair, 4:00–6:00 p.m., Statler Hall Ballroom
Friday, August 3: Art Show, 1:30–4:30 p.m., Tjaden Gallery
Checkout dates and times
Before making travel plans, review the checkout dates and times for your program. We strictly adhere to these deadlines.
Program director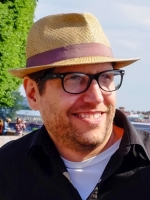 Mark Edward Grimm
Mark Edward Grimm teaches media arts at Cornell University, Tompkins Cortland Community College, and in Cornell's Summer Session. Among the courses he has taught are Time Arts, which focuses on video/audio art and interactive technologies, and Studio Concepts, which encompasses time-based and digital art forms such as film, photography, video art, and computer art.
Grimm holds a master of fine arts degree from Rochester Institute of Technology, where he specialized in painting, printmaking, and experimental video art. He also holds a master of education degree from Columbia University, where he specialized in emerging technologies and their effect on the theory and practice of communication and studio art within higher education.
Grimm has been the recipient of numerous grants, including the Ewing Marion Kauffman Foundation Grant (in support of Redhouse Art Radio, the first listener-generated arts and ideas internet radio station). His work has been shown nationally as well as internationally in such locations as New Zealand, Australia, Brazil, and Austria.
"I have a passion for teaching media arts and working with students as they push their limits and intellectual prowess. I find that encouraging students to tackle new artistic ideas, often outside of their comfort zone, empowers them to learn from mistakes and become independent creators. Mentoring students in developing processes of self-critique and the pursuit of artistic growth is one of the most fulfilling aspects of teaching."
Student experiences
"Cornell was absolutely eye-opening, and I learned so many things. I especially loved getting a taste of college life; I love independence and responsibility. Professor Grimm was awesome, and I could tell he really loved what he was doing/teaching." — Autumn, 2016
Student blogs