Fundamentals of Modern Marketing
Dates: July 15-August 4, 2018 (3 weeks)
Credits: 3 credits
Eligibility: current sophomores, juniors, seniors
(see
eligibility requirements
)
Overview
From buying sneakers to choosing political candidates, our decisions are shaped at least in part by professional marketers who create and use strategies to influence our behavior. Whether you hope to use such strategies in your own career or just want to be an informed consumer, this course will help you understand the forces at work in the buying and selling of goods, services, and ideas.
In this rigorous and comprehensive three-week program, you'll
become familiar with the principles and fundamentals of modern marketing,
learn to analyze complex business situations, and
improve your teamwork skills, a critical component of academic and career success.
Led by Sherif Nasser, a visiting assistant professor in Cornell's top-ranked Dyson School of Applied Economics and Management, you'll learn how organizations plan, price, promote, and distribute their goods and services in today's global economy. You'll discuss the issues marketing managers face and delve into the techniques they use in choosing and evaluating their marketing strategies.
Throughout the course, you'll use numerous real-world marketing examples to illustrate topics. For example, while discussing branding, you'll delve into the evolution of Apple products and brand positions since 1984, and while learning about promotional strategies, you'll look closely into how brands such as Cottonelle and Pedigree dog food were able to coordinate their many communications channels to deliver clear, consistent, and compelling messages about their products.
You'll perform an in-depth analysis of a case study on Unilever's successful marketing strategy for a laundry detergent in Brazil. And during classes on marketing in the digital age, you'll investigate how Google and Facebook design their advertising platforms.
Working with other students, you will define and develop marketing tactics and strategies as you explore topics such as
marketing math;
consumer behavior;
segmentation and targeting;
market research;
branding;
retailing and wholesaling;
integrated marketing communications;
advertising, PR, and personal selling;
digital marketing;
international marketing;
competitive strategies, and
social responsibility and ethics.
In the process, you'll sharpen your decision-making capabilities and develop your communication skills.
In class discussions, you and your classmates will be responsible for raising relevant issues and maintaining the exchange of ideas, while Professor Nasser will facilitate discussion. All opinions and recommendations will be respectfully considered, and together you'll synthesize your different perspectives to form a framework for decision-making.
The Dyson School, part of Cornell's SC Johnson College of Business, is a highly regarded leader in applying practical economic and management tools to solve the world's most significant business and social challenges. It has an international reputation for the quality and breadth of its research, undergraduate and graduate education, extension, and outreach. The Dyson School's undergraduate business program, among the largest and most selective majors at Cornell, is currently ranked in the top ten nationwide by both Bloomberg Businessweek and U.S. News and World Report.
Course expectations
Students are expected to:
arrive and be seated prior to the start of each class session;
complete the readings, case preparations, and other assignments prior to each class session;
be prepared to actively participate in class discussion;
refrain from using laptops (except for class exercises), tablets, cell phones, and other electronic devices in class, which can be distracting to your classmates and your professor; and
adhere strictly to the standards of academic integrity outlined in Cornell's Code of Academic Conduct.
Course
You'll be enrolled in the three-credit course Marketing (AEM 2400).
This course meets Mondays through Fridays from 1:00–4:00 p.m.
Maximum enrollment: 40
Note: You may combine this program with a three-week 1 program to create a six-week Dual Program.
Textbook and course pack
| | | |
| --- | --- | --- |
| Title | Author | Cost |
| Course Pack* | N/A | $TBD |
| Principles of Marketing 16th Edition** | Kotler and Armstrong | N/A |
*The course pack, which is required, contains articles and cases that will be discussed in class. About a month before class starts, we will provide you with the link you'll need to purchase this pack from Harvard Business Publishing.
**This textbook is optional. If you would like to have a good marketing reference book, feel free to purchase it.
Special scheduling
Events
Monday, July 16: College Admissions Workshop, 2:30–3:45 p.m.
Monday, July 23: College Fair, 4:00–6:00 p.m., Statler Hall Ballroom
Checkout dates and times
Before making travel plans, review the checkout dates and times for your program. We strictly adhere to these deadlines.
Program directors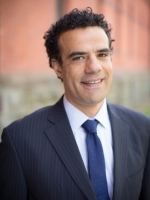 Sherif Nasser
Sherif Nasser is a visiting assistant professor in the Charles H. Dyson School of Applied Economics and Management and the Samuel Curtis Johnson Graduate School of Management at Cornell University. Prior to coming to Cornell, Nasser taught at the Olin Business School at Washington University in St. Louis.
Nasser earned marketing degrees from Baruch College (MBA 2001) and the NYU Stern School of Business (MPhil 2016 and PhD 2008). He also holds a BS in mechanical engineering from Cairo University, Egypt.
Nasser is the recipient of several teaching awards, including an Outstanding Faculty Award (2013 and 2009) and an MBA Reid Teaching Award (2013) from the Olin Business School at Washington University. He has published articles in journals and conference proceedings and has presented at numerous conferences and seminars. He has received several fellowships and is a member of the academic honor society Beta Gamma Sigma.
"Teaching a discipline that I am very passionate about gives me great joy. I have always been fascinated by modern marketing's emphasis on creating value to consumers, organizations, and societies. Organizations of all types thrive or fail depending on how well they design and implement their marketing functions. Teaching at Cornell allows me to interact with very intelligent and creative students around marketing. It is the most gratifying experience to watch these bright young people not only learn about the discipline but also learn and develop skills to think more openly, more critically, and more creatively. I am grateful that I get to witness their development and be part of it."
Student experiences
"This class introduced me to every topic in marketing and gave me a sense of ownership over the material very quickly." — Sarah Tenner
"I take an IB business SL course at my high school, and the work I did here expanded on some things I learned in class and of course offered a lot of new information. I learned a lot in this program, and, even though it was intensive, it was incredibly rewarding." — Devin Sasse
"I learned a lot about modern marketing and applied it to concrete practice by doing case studies. Profess Nasser is really nice and tried to help every student. I found plenty of inspiring ideas that can be applied to my future entrepreneurship." — Cerises Zhou
"My writing, reading, and market analyzing skills improved considerably in the three weeks, and I now have deeper understanding of what university life looks like—how to participate in class, how to cooperate with others, how to manage my daily time, and so on."
"What I valued most about the class were the case studies, which really help me put what we learn in class into real-world scenarios."
Student blogs