The Art of Songwriting, Session II
Dates: July 15-August 4, 2018 (3 weeks)
Credits: 3 credits
Eligibility: current sophomores, juniors, seniors
(see
eligibility requirements
)
Overview
Whether you've dreamed of writing a song or already composed a whole album's worth, The Art of Songwriting will enrich your practice thanks to a combination of lectures, workshops, performances, and one-on-one tutorials led by internationally touring songwriter and Cornell Music Department faculty member Annie Lewandowski.
During this three-week program, you'll explore the ingredients of song—lyrics, melody, delivery, harmony, rhythm, form, texture, timbre, and arrangement—through song analysis, recording technologies, concert attendance, and special guest visits.
You'll develop your analytical skills and become proficient in concepts and practices in music theory, composition, and performance.
The course will begin with analysis of the work of diverse songwriters. Then, you'll put theory into practice, composing two original songs,
one that you'll record after tutorials in recording technologies and software, and
one that you'll perform for the class and at the final concert.
Each student will meet with Professor Lewandowski for a private tutorial. This personal attention will assist you in developing your own unique practice and help you hone your skills with stage performance, preparing you for future live performances.
Because recording can be an excellent compositional tool, you'll investigate the many resources available through Cornell's Department of Music and the Sidney Cox Library of Music and Dance. You'll develop proficiency with recording technologies during workshops on Zoom recorders and the open-source music software Audacity.
Along with your classmates, you'll take advantage of Ithaca's robust, exciting, and varied musical community by attending two live concerts of original songs. In your concert reports, you'll reflect on various parameters of the live performance experience, including venue, audience, concert organization, and performer-audience engagement.
During weekly visits by professional songwriters from Ithaca and beyond, you'll engage in conversation about a range of songwriting practices. Past guests have included Sammus and Red Sled Choir.
The program will culminate in a public performance of original work by the class in Cornell's historic Barnes Hall. All participants will receive a recording of the concert.
Note: The Art of Songwriting meets requirements for both the music major and minor at Cornell and more broadly meets the distribution category "Literature and the Arts" in the College of Arts and Sciences. The use of this course to partially or wholly fulfill basic requirements at Cornell or another institute is solely at the discretion of the institution that admits you as a degree candidate. In most cases, students receive transcript credits for the courses.
Course expectations
Students are expected to:
have some previous musical experience, whether it be private lessons, participating in choirs or instrumental ensembles, or self-directed study;
come to class on time having completed the assignment;
respect their classmates and instructor by listening attentively and responding thoughtfully to classroom discussion; and
refrain from using electronic devices in class unless requested by the instructor.
Course
You'll be enrolled in the 3-credit course Songwriting (MUSIC 2111).
This course meets Mondays through Fridays, 10:15–11:45 a.m. and 1:15–2:30 p.m.
Maximum enrollment: 14
Note: You may combine this program with a three-week 1 program to create a six-week Dual Program.
Materials
If you play an instrument, please bring it with you. If you are unable to bring your instrument, it may be possible to arrange a rental. Pianos will be available on campus for student use.
Students will not be required to purchase textbooks, but two course texts will be on reserve in the music department library: Music in Theory and Practice (Bruce Benward) and Songwriters on Songwriting (Paul Zollo). A laptop computer and earbuds/headphones will also be necessary for the class. If you are unable to bring your own laptop computer, short-term check-out options are available through the library.
Students will be required to purchase tickets for two concerts (approximately $60).
Special scheduling
Events
Monday, July 16: College Admissions Workshop, 2:30–3:45 p.m.
Monday, July 23: College Fair, 4:00–6:00 p.m., Statler Hall Ballroom
Friday, August 3: Concert and Graduation ceremony: 6:30–8:00 p.m.
Checkout dates and times
Before making travel plans, review the checkout dates and times for your program. We strictly adhere to these deadlines.
Program director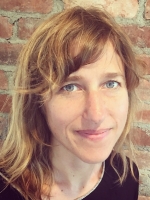 Annie Lewandowski
Annie Lewandowski is a composer, improviser, and multi-instrumentalist whose work has situated her in the worlds of improvisation and independent rock music.
As a singer, guitarist, and keyboardist, Lewandowski has recorded with numerous rock bands. Her band Powerdove has released eight recordings, the most recent of which is War Shapes (Murailles Music, 2017). She premiered her Euripidean song cycle Bitter Banquet with baroque keyboardist David Yearsley at Sustaining the Antique, a festival of classics at Cornell University in October 2016.
As an improviser on the piano and accordion, Lewandowski has recorded and performed with numerous musicians, including Fred Frith, the London Improvisers Orchestra, Caroline Kraabel, Theresa Wong, Miya Masaoka, and Chris Cutler. At Cornell, she is a member of the Cornell Avant-Garde Ensemble.
Lewandowski has performed at festivals and venues across the United States and Europe, including the Casa da Música (Porto, Portugal), the Hippodrome (London), Musica Nelle Valli (San Martin Spino, Italy), the Great American Music Hall (San Francisco), the Frieze Arts Fair (London), Avalon (Los Angeles), and Redcat (Los Angeles). She is a 2014 Civitella Ranieri Foundation Fellow.
Lewandowski received a BA magna cum laude from the College of St. Catherine and an MFA in music performance and literature with a specialization in improvisation from Mills College. At Mills, she was awarded the Flora Boyd Piano Performance prize for her work on extended techniques for the piano.
"Students at a liberal arts university come from diverse musical pasts and are headed to many different futures. I consider it my role to help them articulate and sharpen both of these trajectories: which artists and traditions inform your music, and what will constitute your own original contribution? I teach students to cultivate the same fundamental values as those associated with the pursuit of codified musical technique: commitment, critical listening, self-assessment, and hard work."
Student experiences
"I would advise someone considering Summer College to enroll right away. It was the best decision I have ever made. " — Abby Tremel