Sculpture: Art in Three Dimensions
Dates: July 15-August 4, 2018 (3 weeks)
Credits: 3 credits
Eligibility: current sophomores, juniors, seniors
(see
eligibility requirements
)
Overview
One of the most ancient art forms, sculpture is distinguishable from other visual arts because it exists in three-dimensional space. Physical like us, it evokes from us a physical response. It can be made out of virtually anything, and each material comes with its own meanings and associations, which influence the artwork even before the artist decides what the work is about. This is part of what makes sculpture so powerful and exciting, and also so challenging.
Led by sculptor Chris Oliver, you'll explore this art form through a number of assignments and discussions. During the first week, you'll recreate an architectural space in the studio using cardboard and glue and learn how to make a mold and cast plaster. Throughout the week, you'll gain experience with tools such as hammer and nails, jigsaws, drills, rasps, and scrapers and with materials such as wood, foam core, and plasticine.
During the second week of this immersive program, you'll explore materials ranging from wire and concrete to plaster, sand, paper, fabric, and more. You'll make several pieces that explore the unique physical characteristics of the materials, and then you'll choose a particular aspect of one of those materials for a more refined project.
Once you achieve some proficiency with basic processes, you'll begin to develop ideas for more personalized studio projects. Learning about concepts relevant to contemporary sculpture will also prepare you to approach your projects from a variety of angles.
During the third week, you'll focus on your final project, which will become part of an installation on the last day of class. The installation will provide an opportunity for you to critique your own work as well as the work of your fellow classmates and to begin to think about a piece you might work on in the future.
Classes will regularly include process and materials demonstrations, introductions to relevant artists' work, and discussions about your projects. Frequent revision, based both on suggestions and discoveries, are a required part of the working process. You will be expected to keep a sketchbook to record ideas and notes.
We'll take a field trip to view the collections at Dia Beacon on the Hudson, and we'll meet with staff from the Johnson Art Museum to discuss some of the sculpture in the Johnson's collection.
Rounding out the program will be presentations by Christina Leung, who will talk to the class about her work and about life as an artist in New York City; Madeleine Cichy, who will talk about the importance of residencies to artists' careers; Katie Bethune-Leamen, who will discuss the creation of a commissioned piece for the Toronto Sculpture Garden; and AAP registrar Melanie Holland Bell, who will talk about requirements and admissions criteria for the art major and minor at Cornell.
This course assumes no prior knowledge of or experience in sculpture.
Course expectations
Students are expected to
develop original ideas and projects,
engage in class dialogue,
complete assignments on time,
work productively in and out of class,
present and discuss work clearly, and
demonstrate quality of concept and craft in their finished work.
Course
You'll be enrolled in the 3-credit course Art as Experience III: Sculpture (ART 1103).
This course meets Mondays through Fridays, 9:00 a.m.–noon and 1:30–4:00 p.m.
Maximum enrollment: 16
Note: You may combine this program with Art as Experience or any other three-week 1 program to create a six-week Dual Program.
Required textbooks and materials
All materials except a sketchbook will be provided.
Special scheduling
Events
Monday, July 16: College Admissions Workshop, 2:30–3:45 p.m.
Monday, July 23: College Fair, 4:00–6:00 p.m., Statler Hall Ballroom
Friday, August 3: Art Show Reception, 3:00–4:00 p.m.
Checkout dates and times
Before making travel plans, review the checkout dates and times for your program. We strictly adhere to these deadlines.
Program director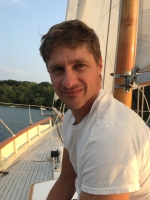 Chris Oliver
Chris Oliver received his BA in sculpture from Marlboro College and his MFA in sculpture from SUNY Albany. Working in a variety of media ranging from minute 3D prints and intricate laser-cut drawings to large hand-built permanent outdoor installations that interact with and shape their environment over time, he examines the fine line between sculpture and non-sculpture through manipulations of scale and context.
Aside from numerous solo and group exhibitions locally, Oliver's work has been shown at History Miami in Florida; Chris White Gallery in Delaware; Vassar College; Sienna Heights University in Michigan; Cazenovia College in New York; and the Memorial Art Gallery at the University of Rochester. He has taught sculpture at Cornell, SUNY Binghamton, SUNY Albany, Marlboro College, and Ithaca College.
To view Chris Oliver's work, visit chrisjoliver.com.
"My goal as a teacher is to help students tease out their own highly individual interests that can most effectively be conveyed through sculpture, and then guide them through the sculptural manifestation of these ideas. My students delve into exercises that use verbal language and writing to generate objects and situations, then create an environment of continuous conversation and experimentation. What I love most about teaching summer courses at Cornell is the full immersion in art making and the momentum that can be built with all day, every day classes."
Student experiences
"Cornell is a wonderful place, full of inspiration." — Reese Berman