Faculty and staff
Joy E. Swanson, PhD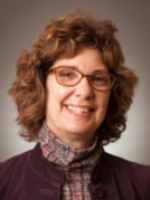 Joy E. Swanson, PhD, is the director of the Cornell/DNS Post-Baccalaureate Certificate Program in Health Studies and a lecturer in DNS. She teaches Teaching Apprenticeships, Preparation for Professional Studies and Health and Humanities and assists with Applied Human Anatomy and Physiology I and II. Her research interests focus on the relationships between fat-soluble nutrients in health and disease.
Dr. Swanson obtained her BS in consumer food science with honors from the University of Minnesota and was the recipient of the university's President's Award for Student Leadership and Community Service, as well as the Stokly van Camp Award for Academic Excellence. She continued her education at Oregon State University, where she earned her MS in food chemistry with a minor in biochemistry.
At Cornell University, Dr. Swanson earned her PhD in food science with minors in nutritional sciences and organic chemistry. During her doctoral program, she earned recognition from the National SeaGrant Research Program and graduate research award from the American Society of Nutrition for her work on dietary n-3 and n-6 fatty acids and biomembrane compositional and functional modifications.
Dr. Swanson completed her postdoctoral research in the Department of Biochemistry and Molecular Biology at Cornell in biophysical interactions within phospholipid bilayers. Her research work is published in a variety of peer-reviewed journals, including several chapters in books and meeting abstracts.
At Cornell Dr. Swanson has been active in mentoring and supporting women and other minority groups in science. She chairs the science outreach committee for the Cornell Section of the American Chemical Society and has led a community-based science fair during National Chemistry Week. As a member of the executive board and co-faculty advisor of the Expanding Your Horizons in Math, Science and Engineering program at Cornell, Dr. Swanson has been instrumental in developing a sustainable and acclaimed outreach program for young girls in the seventh through ninth grades. EYH has been held annually since 1987 on the Cornell campus.
The Interfraternity Council, the Multicultural Greek Letter Council, and the Panhellenic Council at Cornell University have recognized Dr. Swanson as the Greek Faculty Honoree for her excellence in teaching.
Laura K. Barré, MD, RD
Laura K. Barré, MD, RD, is a clinical assistant professor in the Division of Nutritional Sciences. She teaches Applied Human Anatomy and Physiology I and II.
Dr. Barré was a scholar-athlete at Cornell, obtaining a BS in nutrition from DNS and competing on the track and field team. She completed a dietetic internship at Emory University and practiced as a clinical dietitian focusing on geriatrics. She then went on to graduate from Dartmouth Medical School in 2001 with an MD degree. Dr. Barré conducted research on AMP-activated-kinase in skeletal muscle in the Department of Medicine at Dartmouth and taught histology and neuroanatomy within the Anatomy Department at the Dartmouth Medical School.
In 2011 Dr. Barré completed a post-doctoral research fellowship in geriatric mental health research focusing on healthy eating in persons with serious mental illness within the Dartmouth Institute for Health Care Policy and Clinical Practice. Most recently, she received a young investigator award from the Obesity Society for her work in this area.
Dr. Barré joined the DNS faculty in 2013. She advises students within the Post-Baccalaureate Certificate Program in Health Studies. She has a particular interest in the evolution of the classroom in the era of technology and has enjoyed introducing the "flipped" classroom to the Applied Human Anatomy and Physiology courses.
Bruce L. Greene, MD
Bruce Greene is the clinical director of the Cornell/DNS Post-Baccalaureate Certificate Program in Health Studies and co-teaches Applied Human Anatomy and Physiology I. He is a clinical adjunct faculty member of the Rochester Institute of Technology's Physician Assistant Program in Rochester, New York, providing preceptor instruction at Guthrie Orthopedic Group in Ithaca, New York; former medical director of the Department of Physical Therapy and Sports Medicine at Cayuga Medical Center of Ithaca; former assistant medical director of surgical services at Auburn Memorial Hospital in Auburn, New York; the founder and former medical director of the Joint Solutions Program, a total joint initiative program at Cayuga Medical Center of Ithaca; and the creator of the first academic wet lab in the Southern Tier. Dr. Greene is board certified in orthopedic surgery.
Dr. Greene received his BS from Yale University and his MD from Rutgers Medical School. He completed a residency program at The University of Medicine and Dentistry of New Jersey in orthopedics and a sports medicine fellowship in the Department of Orthopedics at Case Western Reserve University. He has research experience in clinical orthopedics and has presented several seminars on topics in sports medicine and general orthopedics. He has special interests in sports medicine and primary total knee arthroplasty.
Dr. Greene has been recognized by the National Public Health Service for his outstanding community service and by the Department of Exercise and Physiology at Ithaca College for excellence in teaching. Dr. Greene is also an orthopedic consultant for several teams at area high schools, including Ithaca High School, and is the team physician for the men's and women's basketball and track and field program at Cornell University.
Clinical practice teaching staff
Erica Bender, CNM, NP-Ob/Gyn
Erica Bender is a nurse scientist in the Division of Nutritional Sciences and co-teaches Applied Human Anatomy and Physiology I and II within DNS's Post-Baccalaureate Certificate Program in Health Studies. She is the manager of the DNS Human Metabolic Research Unit, where her clinical procedures on human participants have led to her research in maternal-child nutrition and hormonal disorders in women as they relate to nutrition.
Ms. Bender is a certified nurse-midwife in the specialty of obstetrics and gynecology. During her early career, she concentrated heavily on obstetrics. She has delivered approximately 900 babies and provided prenatal/postnatal care to thousands of women. In her later career, she focused on gynecology and primary care for women. She has worked in diverse environments such as private practice, indigent care, health departments, and hospital systems, as well as academia.
Ms. Bender received her MS in nursing from SUNY Downstate Medical Center in Brooklyn, New York, where she received two distinguished awards, Excellence in Clinical Practice and Excellence in Academic Achievement. She is a member of the American College of Nurse Midwives, a certified childbirth educator, and a National Healthcare educator.
Susan Carlisle, PA
Susan Carlisle is a clinical practice instructor within the Cornell/DNS Post-Baccalaureate Certificate Program in Health Studies. She co-teaches Applied Human Anatomy and Physiology I and is a preceptor for post-baccalaureate students at Guthrie Orthopaedic in Ithaca, New York.
Ms. Carlisle earned a BS in athletic training at Ithaca College before attending the physician assistant program at Hahnemann University Hospital in Philadelphia, Pennsylvania. She has extensive experience in sports medicine, both on the field and in a clinical office performing complete patient care, conducting physical exams, ordering tests, interpreting diagnostic tests, making final assessments along with treatment plans and follow-up, and assisting in surgery. Ms. Carlisle mentors post-baccalaureate students who desire physician assistant clinical externship experience.
Ms. Carlisle is certified by the National Commission on Certification of Physician Assistants and is a registered physician assistant with New York State. She is an active volunteer with the Ithaca Chapter of the American Cancer Society Relay for Life.