The information below pertains to Summer Session 2018. If you would like to be notified when Summer Session 2019 course information is available, please sign up for e-mail updates.
Our faculty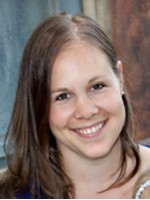 Melanie Soberon
Dr. Melanie Soberon's agricultural journey began on a family farm in the Midwest. Her combined interests in animals and education led her to a dual major in animal sciences and life science communications from the University of Wisconsin–Madison.
After completing her undergraduate work, Dr. Soberon came to Cornell to earn her MS in animal science, focusing on the nutrition of highly productive sheep. She later earned a PhD in animal science at Cornell, with a focus on ruminant nutrition. For her postdoctoral work, she wrote and published scientific journal articles on the topic of sustainable nutrient management on Northeastern dairy farms.