The information below pertains to Summer Session 2018. If you would like to be notified when Summer Session 2019 course information is available, please sign up for e-mail updates.
Our faculty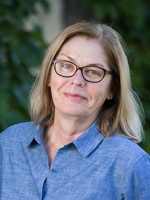 Anette Schwarz
Anette Schwarz is an associate professor in Cornell's Department of German Studies. Before coming to Cornell in 1997, she taught at Yale University, where she received a prestigious award for interdisciplinary teaching and curriculum development. Her research focuses on the relationship between emotions and literature, and she has published on the history of melancholia and the uncanny and is currently working on a book about philosophies of the tragic. All of her teaching is interdisciplinary in nature, and she enjoys reading German literature in the wider context of other European literatures.
"I have always thought of teaching as a great learning experience: my ideal is to create an atmosphere of lively discussions, thought-provoking questions, and not-so-easy answers. I truly enjoy the manifold interpretations a literary text affords when wonderful students discover the art of reading and unveil the hidden meanings of a work of art. I love to share the excitement of sudden realizations: when together we make connections between ideas that stem from different centuries; when together we make connections between different disciplines (such as medicine and literature); when together we notice when a piece of literature breaks with its culture and starts a new tradition. For me, a teacher is like a detective who with the help of the students follows clues and signs in order to decipher the mysterious world of literature. All we need is curiosity, attention to details, and enthusiasm."