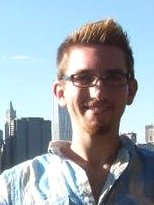 Colin Buss
My rotations included pre-op consultations and surgery, pediatric ER, and emergency room interaction and diagnostics.
Rotations
Dr. Jason A. Spector
Assistant Professor of Surgery Assistant Attending Surgeon, New York-Presbyterian Hospital
During my rotations with Dr. Spector, I saw patients for their consultations, pre-op appointments, and post-op follow-ups. I stood in on surgeries that he performs.
Dr. Shari Platt
Associate Professor of Clinical Pediatrics Weill Cornell Medical College/ Associate Attending Pediatrician New York-Presbyterian Hospital
In the pediatric ER, I assist with various aspects of patient care (entertaining children, changing sheets, etc.), and also see patients with the various doctors working there.
Woodhull Emergency Room
North Brooklyn, part of New York City's Health and Hospitals Corporation/Affiliated with NYU Langone Medical Center
In my rotation at Woodhull ER, I shadowed medical students, attending physicians and physician assistants while they saw patients and following up with labs results, radiology, and other offices.
Programs
Human Ecology Urban Semester Program