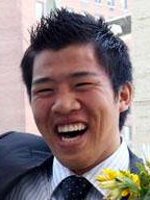 David Ge
My rotations included gastroenterology, doctor's office patient visits, cosmetic/reconstructive surgery, patient/family comfort, and hospital administration.
Rotations
Dr. Brian Bosworth
Assistant Attending Physician New York-Presbyterian Hospital Assistant/ Professor of Medicine Weill Cornell Medical College/ Anne and Ken Estabrook Clinical Scholar in Gastroenterology Weill Cornell Medical College
I shadowed Dr. Brian Bosworth during his office hours on Monday's for patient treatment and follow up. On Thursday's, I observed him performing endoscopies and colonoscopies.
Dr. Joseph Safdieh
Assistant Attending Neurologist New York-Presbyterian Hospital/ Assistant Professor of Neurology Weill Cornell Medical College
On Tuesday's I would observe Dr. Safdieh with his patients during his office hours.
Dr. Jason A. Specto
Assistant Professor of Surgery Assistant Attending Surgeon, New York-Presbyterian Hospital
With Dr. Spector, I would go into the operating room (OR) and observe him performing plastic surgeries depending on whether he had a surgery scheduled. On Fridays, I shadowed him during his office hours and follow up with patients.
Post-Anesthesia Care Unit (PACU)
Recovery Room New York-Presbyterian Hospital
For my volunteer rotation I was a waiting room and patient comfort liaison. I checked up on various patients to see how they were doing. I would communicate with the nurses to see whether family members could visit, and escorted family members into the PACU Recovery Room.
Woodhull Clinical Services North Brookly
part of New York City's Health and Hospitals Corporation/Affiliated with NYU Langone Medical Center
Gloria Morale
Associate Executive Director of Clinical Services
Gloria allowed me to attended and sit in on staff meetings and shadow the Administrator on Duty (AOD) who is in charge of the daily operations for the entire hospital.
Programs
Human Ecology Urban Semester Program