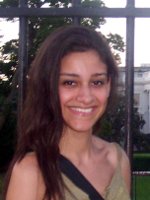 Pauline Velasco
My rotations included orthopaedic surgery & musculoskeletal therapy, pediatric ER procedures, and HIV prevention microbicide research.
Rotations
Woodhull Rehabilitation Unit North Brooklyn
part of New York City's Health and Hospitals Corporation/Affiliated with NYU Langone Medical Center
During my Woodhull Rehabilitation Rotation with Dr. Jonah Green, Orthopaedic Surgery & Musculoskeletal Services Rehabilitation Medicine, I visited patients and sat in on therapy sessions with patients.
Dr. Shari Platt
Associate Professor of Clinical Pediatrics Weill Cornell Medical College/ Associate Attending Pediatrician New York-Presbyterian Hospital
Dr. Shari Platt allowed me to sit in the emergency room and observe pediatric surgeries.
Center For AIDS Research
Albert Einstein College of Medicine
I had a research rotation at Albert Einstein Medical School that dealt with microbicide research. My lab was studying different microbicide gels that could potentially protect females from contracting HIV. This information could be potentially valuable for various African countries where wearing protection during intercourse is not an option. I was testing different serum samples from different cohorts of females. For example, some had HIV and some didn't. And from those who were positive, I tested serum from patients on medication and those taking no meds. I was basically testing for the level of defenses these females had in their serum. At the end of my rotation I was able to present my data to the lab which consisted mainly of MDs, DOs, and PhDs.
Programs
Human Ecology Urban Semester Program